Francesc Godoy Silver medal in the World Cup of Tiszaujvaros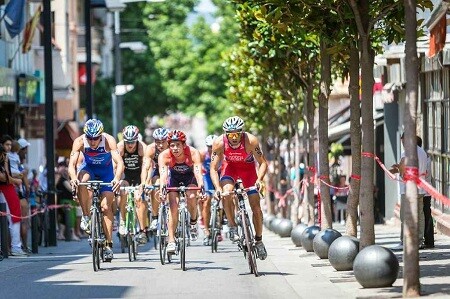 The final male elite of the Triathlon ITU World Cup Tiszaujvaros, held this Sunday in the Hungarian town in sprint distance, has left us an exciting competition. A test in which Cesc Godoy has offered an extraordinary display of forces, which has culminated in the achievement of the silver medal for the Barcelona triathlete.
Throughout the entire event, Godoy has remained in the leading positions, starting sixth after completing the initial 750 m of swimming and remaining among the group of nine that has led the next 20 km of cyclists. After setting a very strong rhythm in the cycling segment, the leaders reached T2 with a cumulative advantage of 49 seconds over the pursuing peloton.
Next they have faced the decisive sector of 5 km of race on foot, in which the Florin Salvisberg, Alexander Bryukhankov, Wian Sullwand, Andrea Salvisberg and Cesc Godoy among others, fighting for the podium. In the absence of two laps Godoy led the race, maintaining an intense duel with the Swiss Salvisberg, and with Frederic Belaubre overtaking positions behind in a great. Already in the last round, Godoy and Salvisberg have continued fighting for the gold, with Belaubre placing a few 5 seconds of both.
In the end the victory has been for the Swiss, with a splendid Godoy signing the silver medal just 8 seconds behind the winner. While the French Belaubre climbed to the third step of the podium. A great finale to an exciting weekend, in which Cesc Godoy became the leading character, offering brilliant performances in these two days of competition and achieving his first podium in a Triathlon World Cup.