Triathlon News
Frederick Van Lierde and Nikki Bartlett win Club La Santa IRONMAN of Lanzarote. Emilio Aguayo 3º and Miquel Blanchart 6º
The Belgian triathlete has won the victory in the XXVIII edition of the IRONMAN Lanzarote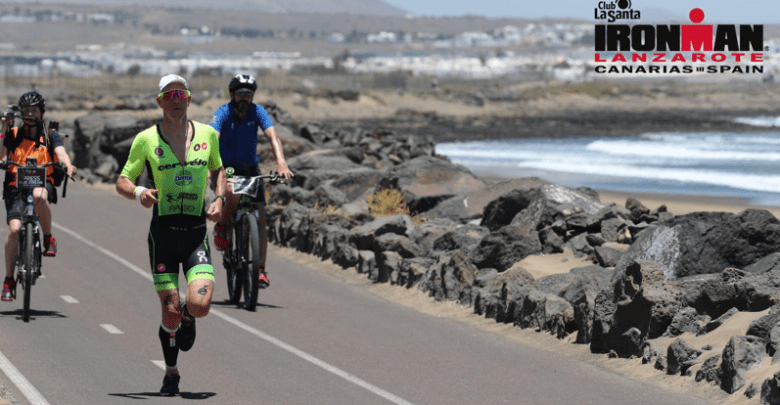 Today, in the Puerto del Carmen, the XXVIII edition of the Club Santa IRONMAN Lanzarote with a big poster of favorites for victory. On the one hand Frederick Van Lierde, IRONMAN World Champion in 2012 and 5 times IRONMAN France winner, Andreas Raelert, of 43 years and 3 times runner-up of the IRONMAN World (2010,2012 and 2015), that returned to compete in the test after a long time without doing it.
Other triathletes to keep in mind was Alexander Degasperi, winner in 2015 and 2018 and, Ivan Raña, second in 2018, Miquel Blanchart second in 2013 and 2014, Jaroslav Kovacic third in the LD World Championship from Pontevedra or Emilio Aguayo that debuted in the distance and that came from winning the Volcano Triathlon.
Swimming out
The show starts!! exit from #IMLanzarote 2019 !!

Go Go Go !!! pic.twitter.com/guLGFSxaNa

- Triathlon News (@triatlonnoticia) May 25 2019
The test began at 7 in the morning with the 3,8 km of swimming where the first to get out of the water was Andreas Raelert, followed by Emilio Aguayo at 2 seconds. Frederick Van Lierde came third to 1: 11 of the head of the race. At that point Iván Raña was 7º to 1: 16 and Miquel Blanchart 9º to 3: 23.
In the tough cycling segment, with 2.500 meters of positive height difference, Frederic Van Lierde was gradually trimming to reach Raelert on the 50 km of carrear. Emilio Aguayo with a large sector remained in top5 positions with 2 minutes behind the head of the race.
In the passage through the Mirador del Rio, a trio was formed with Van Lierde, Raelert and Kovacic (who had reached them) passing with 1: 12 over Kramer and Emilio Aguayo fifth who passed 3 minutes from the head. At this point Blanchart passed 15º to 17: 48 while Raña was 16º to 19: 33.
Paso mirador de rio
Top 5 men km 107.5: @raelertbrothers 4: 12: 08, @fvanlierde + 0: 04, Kovacic + 0: 07, @kramer_tria + 1: 12, Munoz + 3: 02 #IMLanzarote pic.twitter.com/BRF2m7VUqs

- IRONMANLive (@IRONMANLive) May 25 2019
In the last part of the test Van Lierde went alone looking to reach the transition with the maximum possible difference, but finally it was not possible to reach the trio practically together (Van Lierde, Kramer and Kovasic) to the T2 in search of decisive 42 km of running, where any of the three opted with victory options, since they are very good runners. Emilio Aguayo it was fourth to 2: 30 of the head. Degasperi, winner of the last year 8º was downloaded to 17: 38. Miquel Blanchart the segment ended 13º to 24: 43 e Ivan Raña 15º to 25: 58
The decisive foot race
In the 42 km to four laps, we saw an exciting duel between these four riders, where a priori would be the posts of the podium since the fifth to start running was Anders Christesen over 12 minutes.
In the first kilometers of the race, Kramer took the lead in 20 '' Van Lierde and Kovacic and 3: 03 by Emilio Aguayo, but close to the pace of the half marathon, the Belgian overtook Kramer with a good pace and eagerness of victory.
From that point, with an intense rhythm, Frederick Van Lierde he was increasing his advantage to finally get the victory in the IRONMAN Lanzarote 2019 with a time of 8: 51: 16. The second place for has been Christian Klamer arriving at 4: 51 minutes from Van Lierde.
In the fight for the third place we have seen a great Emilio Aguayo that with a great regularity in the marathon managed to reach the third position before passing through the half marathon to finally be in third position.
Miquel Blanchart with a great race on foot he has finally climbed 9 positions to finish in sixth position finishing the test in a time of 9: 09: 25 and a marathon of 2: 46: 59.
Ivan Raña Second last year he has retired from the race in the first part of the race on foot.
Top 10 male:
1 Van Lierde, Frederik (BEL) 08: 51: 16
2 Kramer, Christian (GER) + 04: 52 08: 56: 08
3 Aguayo Muñoz, Emilio (ESP) + 09: 39 09: 00: 55
4 Brammer Olesen, Morten (DEN) + 13: 56 09: 05: 12
5 Van Looy, Diego (BEL) + 16: 27 09: 07: 43
6 Blanchart Dyed, Miquel (ESP) + 18: 09 09: 09: 25
7 Christensen, Anders (DEN) + 18: 50 09: 10: 06
8 Schmid, Stefan (GER) + 23: 39 09: 14: 55
9 Vistica, Andrej (CRO) + 24: 28 09: 15: 44
10 Degasperi, Alessandro (ITA) + 35: 00 09: 26: 16
The birthday gift of Van Lierde
Today in addition to getting the victory in the race, he was able to celebrate his birthday and in the goal line they had a surprise prepared for him
What else can you ask for ... Win the #IMLanzarote and on the day of your birthday

Double congratulations for @fvanlierde

Career Chronicle https://t.co/RLT3lROo8V pic.twitter.com/Ilyvr1ZDcH

- Triathlon News (@triatlonnoticia) May 25 2019
Nikki Bartlett sweeps the women's event
. @NikkiBartlett1 He wins #IMLanzarote !! 👏👏👏

Congratulations!!https://t.co/mOjKC9uyMO pic.twitter.com/8oo61Us2pm

- Triathlon News (@triatlonnoticia) May 25 2019
In the women's test the first one to get out of the water was Rachel McBride with 55 seconds ahead of Dede Griesbauer, 1: 19 over Maya Nielsen and 1: 25 over Emma Pallant.
In the first part of the cycling segment we saw a duel between Emma Pallant, Maja Nielsen, and Nikki Bartlett, passing each other to lead the test until Bartlett accelerated the pace and was distancing to go through the Mirador del Rio with 1: 47 of advantage over Emma Pallant and 3: 58 over Maja Nielsen.
Little by little his advantage was increased to reach the T2 alone with an advantage of 8: 11 over Maja Nielsen and over 17 minutes over Asa Lundstrom.
During the marathon he has managed to preserve his advantage to achieve the final victory with a time of 09: 59: 10 followed by Maja Nelsen (10: 03: 41). The third classified has been Lenny Ramsey (10: 12: 40)
More information shortly