Genis Grau and David Castro, at the elite start of the Tokyo Test Event
David Castro has been registered at the last minute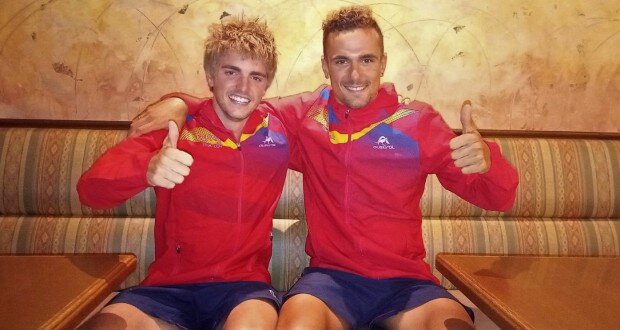 El Tokyo test It is a test that serves as a simulacrum of what the Tokyo Olympics are going to be, and the triathletes go to the same stage a year earlier, in Odaiba Beach.
In the male test they will be Genís Grau y David Castro, who has come to Tokyo to do the mixed relay with Tamara Gómez (he was sub23 world champion in Cozumel 2016 in this specialty), and that it has been found that he will return to run an Olympic test since he achieved the place coming from the waiting list once the briefing is over.
The mixed relay the novelty in Tokyo
For the mixed relay will be added Tamara Gómez, recent bronze in the European Sprint Championship in Kazan, and that is returning to the competition after an ordeal of injuries that seems to be forgotten.
The mixed relay, which will be the novelty of the triathlon in Tokyo 2020, began in a hesitant way for the Spanish team, but this season it is consolidating and positioning itself with the best and with a good presence in the race, demonstrating that it may be another option in the Olympics.
Noya, Mola and Alarza absent in the test
In 2019, Spain does not attend either with Javier Gómez Noya, or with Mario Mola, nor with Fernando Alarza, nor with Antonio Serrat. The proximity of the Lausanne Grand Final, in which the first three will play the World Cup (Mario Mola 2nd, Javier Gómez 3rd and Fernando Alarza 4th) has meant that the technical direction and after talking with the athletes themselves work with prudence , and at a time of the season when competitions, travel and efforts begin to weigh.
This decision to renounce to participate in the Test Event has made it possible to avoid that more than one could perhaps disrupt the world championship led by the French Vicent Luis. The French triathlete at the last minute has imitated the Spanish proceeding, and neither will it be of the game in Tokyo for his claims to be world champion.
The Spanish triathlon has understood this decision and has supported its athletes, seeking the best conditions for the achievement of another world championship to keep all options open. And at the same time he will be in Tokyo to accumulate learning for the Olympic challenge with triathletes less experienced international competitions of this magnitude in the men's category.
Source: FETRI