Ginette Bedard finishes her 17 th marathon in New York with 86 years
The French has managed to finish the test with a time of 7: 39: 08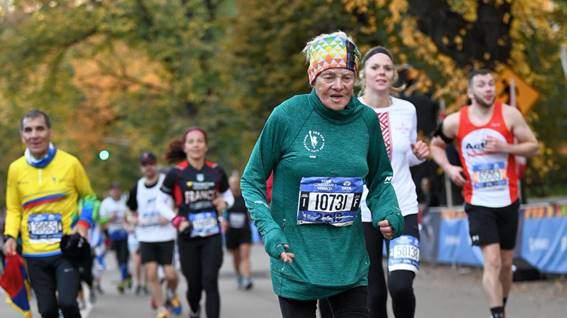 Today one of the most important marathons in the world, the New York Marathon, where they have taken the victory, two Kenyan athletes, Geoffrey Kamworor, in male category, and Joyciline Jepkosgei, in feminine.
But apart from the strictly sports we want to highlight the participation of Ginette Bedard, an American runner who has participated in this race at the age of 86 years, in which she has been his 17º participation in the test.
Ginette has completed the race in a time of 7:39:08
Their passing times have been:
5 km: 0:42:46
10 km: 1: 29: 31
15 km: 2: 16: 49
20 km: 3: 09: 34
21 km: 3: 27: 48
25 km: 4: 20: 23
30 km: 5: 21: 13
35 km: 6: 23: 42
40 km: 7: 16: 23
42 km: 7: 39: 08
He has participated in 330 races with his club
Bedard was born in France, but has US citizenship and participated for the first time in this marathon with 72 years, where he got a mark of 3: 46 achieving the world record in his age group.
"I've been running [a marathon] every year," Bedard said, and he has completed nearly 330 races with his club, New York Road Runners (NYRR).
Now Bedard, who moved to New York on 1962 with her husband, a Canadian aviator, has participated with her son Gery, from the MovedMe team of NYRR, a group of 26 inspiring runners and families who completed this year's race.
Since the 2008 has not stopped getting records
During the 2008 New York TCS marathon, Bedard set the women's marathon record of 75 to 79 years in the US. UU., With a time of 4: 08: 31.
More than a decade later, Bedard has not stopped breaking records. At 2018, Bedard was the oldest woman to cross the finish line of the TCS New York City Marathon at a time of 6: 19: 01
Bedard's story is one of the most inspiring in the world of running.