Gómez Noya second in the Sprint Triathlon World Championship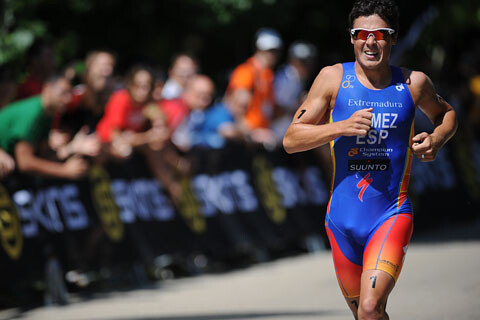 The Swiss town of Lausanne has been commissioned to host the last event of the world triathlon series before the grand final in Beijing where Jonathan Brownlee has revalidated his title of Sprint Distance Triathlon World Champion
Despite losing his leadership in the Ranking of the World Triathlon Series, Noya has shown today to be recovered and in excellent shape in the test held today in this Swiss town.
On a sprint distance circuit, Noya remained at the head of the race fighting until the last meters of the race on foot for the first place on the podium.
Finally, the youngest of the Brownlee brothers, Jonathan, gave the last push in the final meters, reaching the finish line in first position with a total time of 00:52:23 and thus taking the title of World Champion just 5 seconds away. Spanish Javier Gómez Noya, 00:52:27. Alistair completed the last drawer with a time of 00:52:38.
Another Spaniard, Fernando Alarza, remained in the TOP 20 of the best in the world, 00:53:27 fully recovered from his clavicle injury, which did not allow him to participate in the Madrid World Series event. Mario Mola came in at number 52, 00:55:15.
In a fast race, the Spanish and great favorite, Gómez Noya came out of the first, creating a group of 14 triathletes in the cycling segment that included Jonathan Brownlee, Alistair Brownlee, Javier Gomez, Alexander Brukhankov, Sven Riederer, David Hauss, Frederic Belaubre and Abrahm Louw, among others. Shortly before reaching T2 they were caught by the second group, leaving 30 triathletes from this transition to start the last segment of the race on foot.
Noya, the Brownlee brothers, Riederer and Brukhankov quickly marked the distances, creating a first group, which quickly divided again, leaving Noya and Jonathan Brownlee in first and second position.
Noya was quickly placed in front of the youngest of the Brownlee brothers, but Jonathan did not detach himself from him and finally gave a last pull, passing Gómez Noya and thus leading the test.
In record time on foot, in which Jonathan completed the 5 km in only 14:24 seconds, 40 seconds less than the previous year, the Briton proclaimed himself World Champion at this distance.
After this appointment, Noya has ceded his leadership in the World Series to Alistair Brownlee, with 3085 points, followed by Jonathan with 2965 points and Noya in third position, 2858.
With a tight score, three great triathletes are among the ranking leaders, it will be next September 10-11 in Beijing where the 2011 Triathlon World Champion will finally be decided.
All results in:
http://www.triathlon.org/results/results/2011_lausanne_itu_elite_sprint_triathlon_world_championships/5996/
TOP 10
| | | | | |
| --- | --- | --- | --- | --- |
| 1 | Brownlee | Jonathan | GBR | 00:52:23 |
| 2 | Gomez | Javier | ESP | 00:52:27 |
| 3 | Brownlee | Alistair | GBR | 00:52:38 |
| 4 | Hauss | David | FRA | 00:52:41 |
| 5 | Bryukhankov | Alexander | RUSSIAN | 00:52:42 |
| 6 | Vidal | Laurent | FRA | 00:52:43 |
| 7 | Zipf | Jonathan | GER | 00:52:44 |
| 8 | Silva | Joao | BY | 00:52:52 |
| 9 | Prochnow | Christian | GER | 00:52:55 |
| 10 | Moulai | Tony | FRA | 00:53:02 |