Gurutze Frades third in the Ibiza LD World Championship
Marjolaine Pierre sweeps the test and takes the championship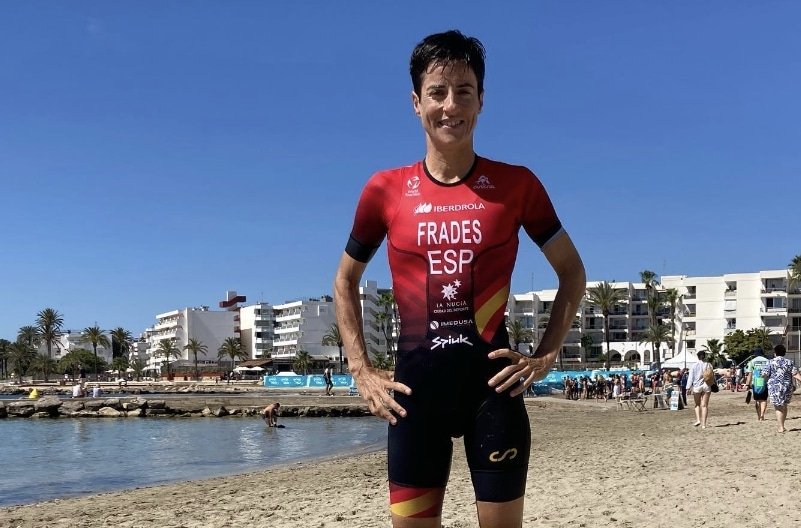 After the men's event where the French Clement mignon has achieved victory and Spanish Antonio Benito has been second came the turn of the women's test, where the winner has had no rival.
The first to come out of the water was Helene Alberdi with a 23-second advantage over Camila Pedersen and Marjolaine Pierre. 2 minutes later a group with Nogera, Ueda, Matthews and Derron came out.
In the cycling segment, the French Pierre launched a strong attack, leaving alone and gaining an advantage of 5:42 in the first lap over Matthews.
This difference achieved was worth it to reach T2 alone with a difference of 3:29 over Astle and 6:31 over Svensk.
At this point Alberdi was 6th at 15' and Frades 10th and Noguera 11th at 18'.
In the foot race Pierre increased his lead again going through the first lap with 6:32 ahead of Svensk and 10:35 ahead of Pedersen.
In the second round, Pierre continued to increase his lead to 7:31 over Svensk and Frades was already fourth, 2' behind Pedersen, who was third.
On the third lap, Pierre continued to increase his lead which passed at 8:23 and Gurutze reached third position 5 minutes behind Svensk.
Finally Marjolaine pierre he got the win with a time of 5:53:35. The second classified was Sara Svensk (6:02:10) and third the Spanish Gurutze Frades (6: 06: 48).
As for the Spanish Helene Alberdi was sixth and Anna Noguera eighth.
Comparative table of times of the first 3 classified
| | | | |
| --- | --- | --- | --- |
| Segment | Marjolaine pierre | Sara Svensk | Gurutze Frades |
| Swimming | 00:41:39 | 00:45:58 | 00:46:01 |
| 1st transition | 00:02:24 | 00:02:48 | 00:02:49 |
| Cycling | 03:09:01 | 03:10:48 | 03:22:07 |
| 2nd Transition | 00:02:54 | 00:03:50 | 00:02:59 |
| Career | 01:57:40 | 01:58:48 | 01:52:54 |
| Total time | 05:53:35 | 06:02:10 | 06:06:48 |
Top 10 female
| MARKET STALL | ATHLETE | COUNTRY | TIME/DIFFERENCE |
| --- | --- | --- | --- |
| 1 | Marjolaine pierre | FRA | 05:53:35 |
| 2 | Sara Svensk | SWE | 06:02:10 +00:08:35 |
| 3 | Gurutze Frades Larralde | ESP | 06:06:48 +00:13:13 |
| 4 | Camilla Pedersen | THE | 06:08:57 +00:15:23 |
| 5 | Svenja Thoes | GER | 06:09:50 +00:16:15 |
| 6 | Helene Alberdi Sololuze | ESP | 06:13:45 +00:20:11 |
| 7 | Giorgia Priarone | ITA | 06:14:24 +00:20:49 |
| 8 | Anna Noguera | ESP | 06:14:55 +00:21:20 |
| 9 | Ai Ueda | JPN | 06:15:41 +00:22:06 |
| 10 | Natia Van Heerden | RSA | 06:16:44 +00:23:09 |