Triathlon News
Gustavo Rodríguez and Cristina Roselló win the La Rioja Triathlon
This test was scoring for the Spanish Cup of MD and LD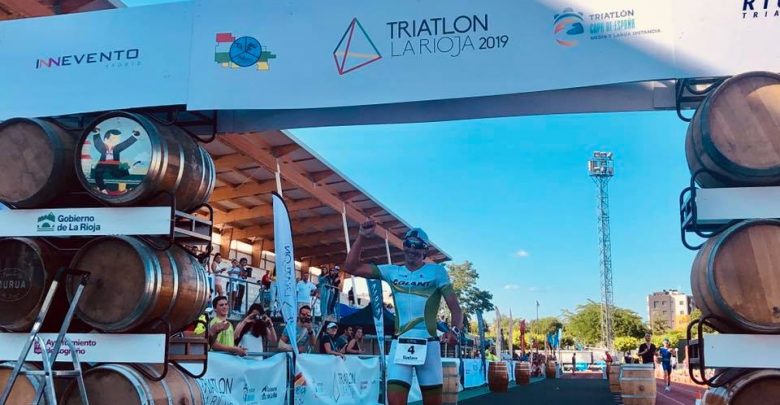 Today the third edition of the La Rioja triathlonwhere last year's winner Gustavo Rodríguez It has returned to climb to the top with a time of 3:52:05, 6 minutes less than last year. Second place went to Joan Rivureta (3.54.20) followed by Pakillo Fernández Cortés (3.59.08) in third position.
Last year's champion was able to revalidate his title despite not being the fastest in the swimming section, where several triathletes like Joan Ruvireta finished before him. But the Galician flew between vineyards to reduce distances and take the race head.
From there, until maintaining the distance in the 21 km traveled through the crowded streets of Logroño and celebrating their second consecutive victory in the WineTri at the Adarraga sports center. Gustavo Rodríguez was so fast that he managed to improve his record last year in 16 minutes.
This third edition stood out for its increase in participation, reaching 600 athletes, 50 more than the previous one, which shows the growth of a scoring event for the Spanish Long and Medium Distance Triathlon Cup.
In addition, in the female category more triathletes competed than the previous year reaching 60. From all over the state, from 39 different provinces they moved to compete in a triathlon based on the calendar and that triathletes really like since they repeat the majority of they. Therefore the success in this third edition was demonstrated from the start at the Ebro jetty.
In the women's category the winner has been Cristina Roselló followed by Ana Revilla and bySonia Pariente occupying the third final position.
The winner declared as soon as she crossed the finish line that she had never participated in the La Rioja Triathlon but that "it is very nice although the race on foot has been quite hard and that is always my best segment, but very happy with the result". The key to his victory was in the cycling segment where he found himself very well.