Iván Raña fifth in the Huatulco World Cup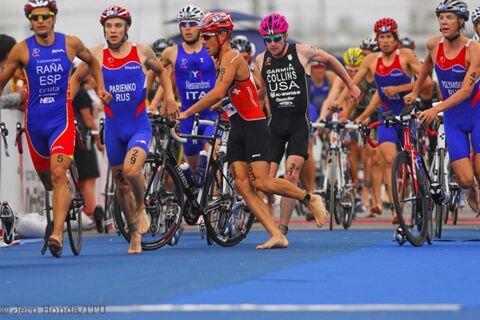 After the excellent performance of the Galician in the grand final of the Triathlon World Series held last month in Beijing, Iván Raña once again offers us a great race, achieving fifth place in the Triathlon World Cup held today in the Mexican town of Huatulco.
The North American Matt Chabrot has prevailed in the sixth triathlon World Cup with a total time of 2:00:37, followed by the South African Richard Murray who invested 2:00:57 in finishing the circuit and third place went to the Portuguese Bruno Paris, 2:01:05. Highlight the great performance of Ivan Raña who finished in fifth position with a time of 02:02:01, as well as the Top20 of the test of the Mario Mola, who reached the finish line in 12 position.
Ramón Ejeda entered the finish line in 23rd position followed by Fernando Alarza in 24th place. Very close Jorge Naranjo, 29th and José Miguel Pérez, 34th.
Iván Raña commented to us upon entering Meta, "I felt good in the race, by bike I managed to go in the first group and I thought about taking a break, but I dropped the bottle and I was not very sure if I was hydrated well and if it was good to force in this segment, like this that my option was to stay in the group "
"In the cycling segment, a cut was made from the first group at the end of the penultimate lap but I stayed in the lead until the transition to the race on foot arrived, where I started well and with options for the podium, but in the second lap I didn't I felt so strong, perhaps due to the lack of hydration and I did not have all the strength I expected, I finally arrived in 5 position which is very good for a World Cup "
"I am very happy with the career I have done, I continue to fight to obtain those points that will grant me the Olympic place. After Beijing, which for me was one of the best races I have done in my life and more after a year of hiatus, I am seeing the results of training and I feel that I am moving forward having the same sensations as previous years "
"The season is not over yet, now I will go to the XTerra World Championship, where they will attend Eneko Llanos and Victor del Corral. Then, to put an end to the season, I will attend the World Cup in Guatapé (Colombia) on November 6, to fight again for a podium position "
The next appointment for the members of the Spanish team will be in Tongyeong (Korea) on October 15
More information and results at: http://www.triathlon.org/results/results/2011_huatulco_itu_triathlon_world_cup/6000/