Jan Frodeno Ironman 70.3 World Champion. Gómez Noya third and Albert Moreno tenth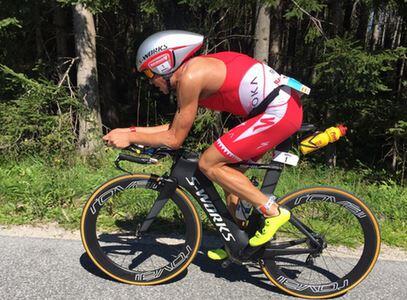 A great cycling sector and an impressive start in the race on foot have served to take the victory
Today, for the first time in Europe, the Ironman World Championship 70.3 where Javier Gómez Noya champion in 2014, participated in the test after a hard week, due to an iviral infection that has made it to the test a bit weak.
The test was very fast from the beginning, in swimming a group was formed in the lead where the best swimmers imposed the rhythm, leaving in first position Gómez Noya followed by Jan Frodeno.
On the bike, the German domain was clear, occupying the top positions at all times. In the first kilometers Frodeno took the lead, but Andreas Dreitz and Andi Boerecher quickly overtook him by taking the lead in the 34 km distance of the race from Andreas Raelert in 1: 14, Jan Frodeno in 1: 25 and Gómez Noya in 1 : 20. Sebastian Kienle was at 3: 30 and the other Spaniard Albert Moreno, made a spectacular climb up positions to be near the Top20 of the test.
When passing through the 70 race kilometer Andreas Dreitz was a race leader with an advantage over 1: 20 over Andi Boerecher and Jan Frodeno, Javier Gómez Noya sank a bit, losing 4: 12 over the leaders
In the last kilometers, Frodeno took second place, cutting the distance over Dreitz. Finally the first to reach T2 was Andreas Dreitz, with a bike time of 2:07:36 followed by Jan Frodeno at 45 seconds and Andi Boerecher in third position. Javier Gómez Noya entered with about 5 minutes behind
Frodeno, very good runner, quickly reached his compatriot Andreas Dreitz getting ahead of the race. Gómez Noya also started to come back, climbing to fifth position in the first kilometers of the race, more than 4:40 behind Frodeno and running at the same pace as the German.
A stunning Javier Gómez Noya He showed everyone his great class in the foot race, climbing positions to third place with 12 kilometers to go and cutting time from Frodeno and Sebastian Kienle who was in second position.
From there Noya always with the best times in the race, he was going up time with respect to the first ones until he got the third final place.
The German Jan Frodeno He managed to manage his advantage by reaching the finish line alone to proclaim himself Ironman 70.3 World Champion in a final 3 time: 51: 19 followed by Sebastian Kienle Ironman World Champion and in third position Javier Gómez Noya (3: 55: 05)
A large Albert Moreno has managed to enter the TOP 10 of the World Championship with a tenth position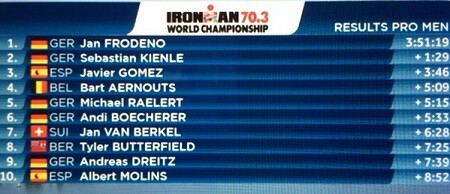 In the female category the winner has been Daniela Ryf followed by Heather Wurtele and Anja Berakek in the third final position
Classification
1 101 Ryf, Daniela (SUI) PRO Bahrain Endurance ... - - 04: 11: 34
2 103 Wurtele, Heather (CAN) PRO - - + 11: 33 04: 23: 07
3 108 Beranek, Anja (GER) PRO TV Erlangen - - + 12: 36 04: 24: 10
4 105 Tisseyre, Magali (CAN) PRO - - + 13: 59 04: 25: 33
5 107 Kaye, Alicia (USA) PRO - - + 16: 05 04: 27: 39
6 124 Gajer, Julia (GER) PRO Team ERDINGER Alk ... - - + 18: 19 04: 29: 53
7 109 Cheetham, Susie (GBR) PRO - - + 18: 57 04: 30: 31
8 132 Lisk, Ricarda (GER) PRO VfL Waiblingen - - + 19: 13 04: 30: 47
9 117 Barnett, Lauren (USA) PRO - - + 19: 26 04: 31: 00
10 135 Bilham, Emma (SUI) PRO Tri Team Pully - - + 20: 13 04: 31: 47
photo: Ironman