Jan Frodeno officially becomes a Sports Legend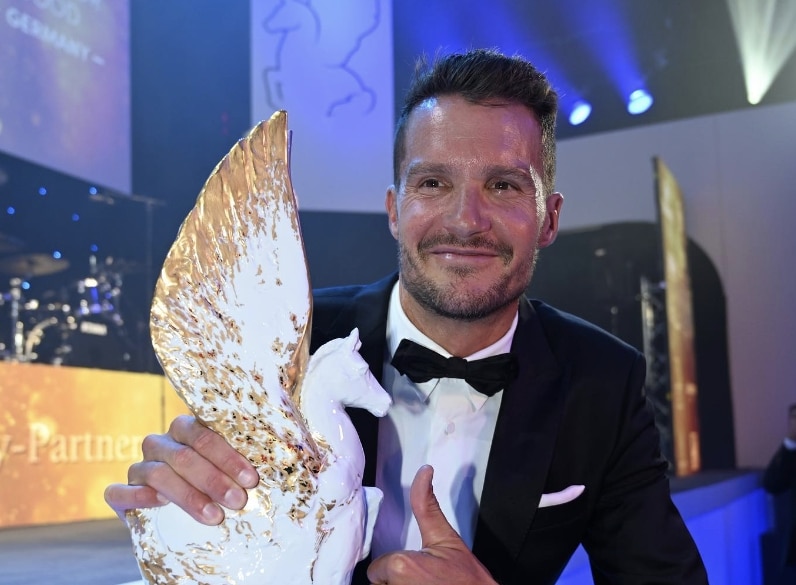 In the pantheon of sports gods, one name resonates with strength and honor: Jan Frodeno.
The German triathlete, revered for his exploits and admired for his character, has been officially enshrined as a 'Sports Legend'.
This recognition not only seals his career with the finishing touch of excellence but also highlights the greatness of a sport that, like triathlon, demands the maximum of body and mind.
At the honorary galaDeutscher SportpresseBall' in Frankfurt was the setting where Frodeno received the distinction of 'Legend of Sport', a title that recognizes his career in a year marked by his retirement.
A retirement that, far from being a goodbye, is a see you later to the competitions, but an eternal stay in the history and heart of triathlon.
From his victory in the Olympic Games to his multiple triumphs in the IRONMAN World Championship, Frodeno has accumulated a record that many can only dream of.
But beyond the medals and trophies, it is his influence off the circuit that really cements his legendary status. He has been a pioneer, an ambassador, an inspirer.
Frodeno himself has stated that it has been an honor to be recognized for a life dedicated to triathlon.
See this post on Instagram
And his legacy goes beyond the personal; It is a legacy that belongs to the sport itself.
As another legend, Mark Allen, rightly pointed out, Frodeno has set a standard that has helped the sport grow. His presence will be missed on the starting lines, but his influence will endure.
His last dance
His last dance in IRONMAN World Championship of Nice did not end with the victory he desired, but that did not diminish his greatness.
At 42 years old, Frodeno showed that true victory lies in the perseverance and passion with which each competition is experienced.
His retirement from professional sports is not an end point, but rather a pause in a symphony that will continue to play notes of inspiration for years to come.
Jan Frodeno History: A Champion Among Legends
Jan Frodeno, the German triathlon colossus, has left an indelible mark on the history of sport.
| Year | Event | Result |
| --- | --- | --- |
| 2008 | Olympic Games (Beijing) | Gold |
| 2013 | ITU World Mixed Relay Championships (Hamburg) | Gold |
| 2014 | Ironman 70.3 World Championship (Mont-Tremblant) | Silver |
| 2014 | Ironman World Championship (Kailua-Kona) | Bronze |
| 2015 | Ironman 70.3 World Championship (Zell am See) | Gold |
| 2015 | Ironman World Championship (Kailua-Kona) | Gold |
| 2016 | Ironman World Championship (Kailua-Kona) | Gold |
| 2016 | Challenge Roth | World Record with 7:35:39 hours |
| 2018 | Ironman 70.3 World Championship (Nelson Mandela Bay) | Gold |
| 2019 | Ironman World Championship (Kailua-Kona) | Gold |
| 2021 | Tri Battle Royale (Allgäu) | World Record with 7:27:53 hours |
His career, marked by excellence and improvement, began to stand out when he won the Olympic Games, but it was his dominance in the Hawaii Ironman that catapulted him to stardom.
Not only did Frodeno win the competition three times, but his victory in October 2019 became a milestone, a harbinger of what would be his last dance in professional competition.
The Corona pandemic put a pause on his opportunity to defend the title in 2020 and 2021, with the event postponed both times.
However, in 2022, as the triathlon elite gathered again, Frodeno made the decision not to participate due to an injury caused by a fall on a bicycle that caused inflammation in his hip.
This decision marked the beginning of his retirement from professional sport, announcing that the Ironman World Championship in Nice would be his last competition.
Frodeno, with a clear vision of his future and a legacy that will last, expressed his desire not to be "the next old man who doesn't find the leap."
Now he is embarking on a new adventure, looking to enjoy his free time, dedicate himself to adventure sports, mountain biking with his son, enjoy a good glass of red wine and travel without the pressure of competitions.
Jan Frodeno's career is a narrative of triumphs, challenges and a tireless pursuit of excellence.
From his beginnings as a swimmer in South Africa to becoming a triathlon legend, his story is a source of inspiration for athletes of all generations. His name, synonymous with greatness, will continue to resonate in the world of triathlon for many years to come.