Javier Gómez Noya helps 3 people to complete their dream of returning to sports
Noya has helped María Jesús with rheumatoid arthritis, Andrés who suffered an accident and Martín de 71 years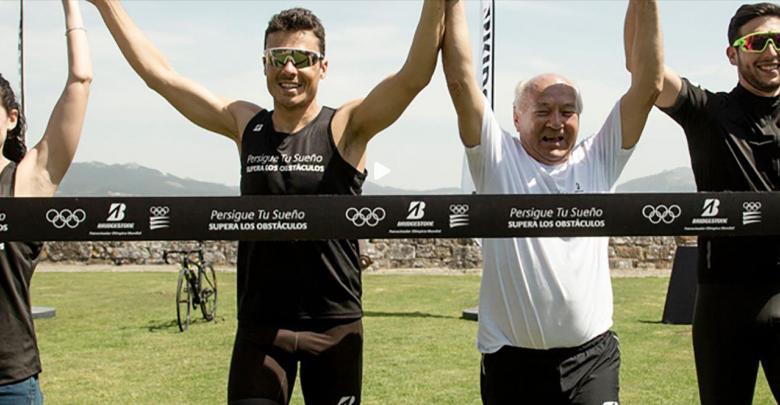 Andrés, María Jesús and Martín are three normal people who have something in common: for different circumstances of life they had to stop practicing the sport that made them happy
Therefore, from Bridgestone they decided to have Javier Gómez Noya, ambassador of our campaign chase your dream, overcome the obstacles, so that help them recover that passion they had to abandon.
For this, we chose Bayona, in the province of Pontevedra, as the setting in which our three participants would meet Javier Gómez Noya and where they would carry out this challenge together with him. It was about a triathlon set in which each one of them would perform together with Gómez Noya one of the three disciplines that make up the triathlon: swimming, cycling and running.
The challenge would begin with 500 metersa nado tours through Maria Jesus, who used to practice triathlon years ago and had to abandon what he liked most as a result of rheumatoid arthritis.
Next, it would be Andrés' turn, he would have to complete about 30 kilometers by bike. Andrés suffered an accident While cycling a few years ago, when a driver ran over him, his father and his two companions. In spite of it, Andres could overcome and left the comma that caused that event to him. After several months of rehabilitation, he has tried to return to practicing the sport with which he enjoyed.
Finally, the challenge would conclude with the foot race of Martín, who at his 71 years did not want to miss the opportunity to run alongside a world champion. In his day, Martin's ambition was to become a great athlete. However, due to different circumstances, he had to put aside that dream.
Bridgestone wanted to gather these three stories to inspire all those people who had to abandon what they liked the most. With this joint triathlon, María Jesús, Andrés, Martín and Javier Gómez Noya, have shown that It is never too late to take back what was forgotten.