Jesús Gomar Oro, Vicente Hernández and Aida Valiño in the Africa Cup of Larache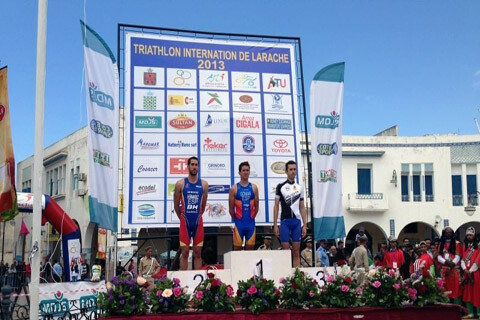 Larache has hosted this Saturday, May 18, the dispute of the African Sprint Triathlon Cup. Both in the female and male categories, Spanish participants have reaped magnificent results, among which the victory de Jesús Gomar as well as the plata Vicente Hernández; together with the silver medal of Aida Valiño.
To this the outstanding performances of the rest of Spaniards in the Moroccan locality are added, with four Spaniards reaching the top-10 in females; while in five Spanish boys took the first places of the classification.
The participants faced a first sector consisting of 750 m of swimming in the Lukus river, followed by a cycling segment 20 km, to conclude with a stretch of foot race of 5 km.
The men's category gave us an exciting final, with Jesús Gomar and Vicente Hernández completing the last meters very evenly and entering the finish line at the same time, after starring in a vibrant race on foot. Finally the victory went to the triathlete born in Gandía, with Vicente Hernández achieving an exceptional silver medal. The podium was completed by the Frenchman Aurelién Lescure, entering 20 seconds behind the Spanish duo. The fourth place went to Ricardo Hernández, followed by Cesc Godoy in fifth place and Pablo Dapena in sixth position.
While Óscar Vicente arrived in 12º place, Antonio Benito, 14; Roberto Sánchez, 15º; Brais Canosa, 18º; Bruno Raso, 19º; Victoriano Raso, 22º, David Castro, 32º and Javier Senent in 31ª position.
In the female category, the first to complete the 750 m of swimming were the French Julie Nivoix, Aida Valiño, Anna Godoy, British Natalie Milne and Miriam Casillas. Behind, already about 20 seconds apart, he came over the first chasing group.
Valiño has maintained a very high level throughout the three segments of the event, occupying the first places at all times. In an intense finale, the Lugo-born triathlete crossed the finish line in a splendid second place just three seconds behind the winner Julie Nivoix. While the press medal went to the British Natalie Milne.
Meanwhile Miriam Casillas achieved fifth place after a powerful race on foot, which achieved the second best brand in the sector. After her, Anna Godoy got a great sixth place. While Melina Alonso finished ninth, with Judith Saizar in 13ª position; María Otega, 14ª and Marta Barbeito, 15ª.
Classifications:
FETRI