Triathlon News
Julia 'Hurricane' Hawkins at 103 continues to break speed records
Este pasado miércoles Julia obtuvo el oro en las carreras de 50 y 100 metros en Albuquerque, Nuevo México.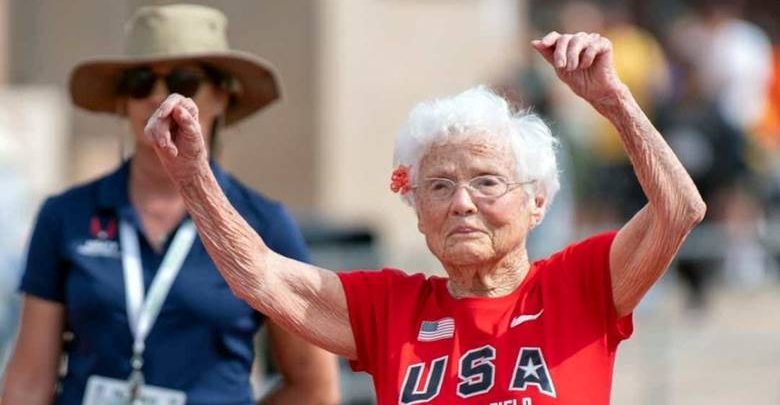 Julia «Hurricane» Hawkins, de Louisiana, volvió a hacer historia al conseguir el oro en los Juegos Nacionales de Veteranos en Nuevo México en 50 y 100 metros listos.
Pero además de coronarse, la velocista estableció un nuevo récord como la mujer de más edad in competing on an American track.
His time in completing the 100 meters was 46.07 seconds while in the 50 he was 21.06 seconds
Sorprendentemente, este no es el único récord mundial que posee Hawkins: en 2017, la ex maestra estableció su primer récord mundial (que aún conserva) al terminar la carrera de 100 metros en menos de 40 segundos
Julia Hawkins es el claro ejemplo de que los sueños no tienen edad. Apodada 'Huracán', comenzó a correr cuando cumplió los 100 años. Antes había competido en ciclismo durante gran parte de su vida.
At 103 years old, Julia 'Hurricane' Hawkins is still breaking records on the track pic.twitter.com/oH3cLD3TZ8

— Reuters Top News (@Reuters) June 20 2019
Su secreto, la jardinería
La deportista, señaló que uno de sus secretos para mantenerse así es la jardinería. "Me mantengo activa todo el tiempo. Tengo 30 arbustos de bonsái, algunos tienen 40 o 50 años. Eso me mantiene ocupada", comentaba a univisión.
"Espero que esto los esté inspirando y puedan darse cuenta de que todavía puedes estar haciendo deporte a esta edad", añadió Hawkins, quien tiene tres nietos y tres bisnietos.
También dijo que uno de los motivos para competir ha sido impresionar a su familia, pero parece ser que su actividad deportiva está cautivando a muchas personas por todo el mundo.
Aunque se llevó dos oros, admitió que en 2018 sus resultados fueron mejores
Y aunque este año ganó dos oros, ella admitió que en 2018 sus resultados fueron mejores. "Estoy encantada de haberlo hecho tan bien como lo hice, pero no lo hice tan bien como lo he hecho (…) No sé si es porque soy mayor, o tal vez fue el ambiente".
Hawkins is the matriarch of a whole family of athletes, not in vain her great-grandchildren competed in professional American cycling, winning several national championships.