French triplet in the European Triathlon Championship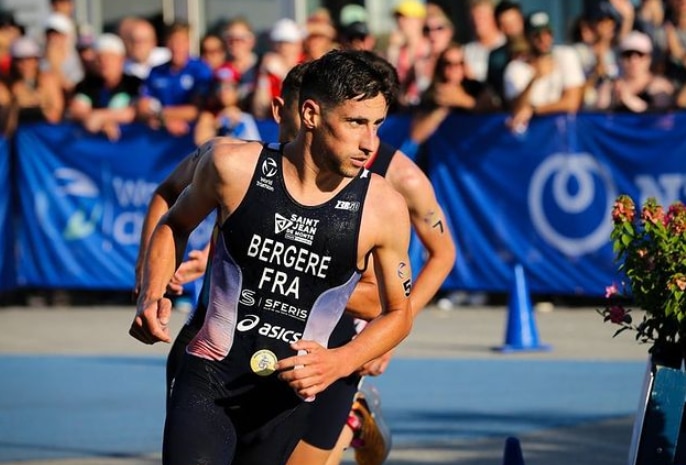 Today the men's event of the CTriathlon European Championship where Spain had a good representation with Mario Mola to the head.
In swimming, the Spaniards came out quite late from the head of the race, which made it easier to form a group of 12 units with Bergere, Schomburg, Geens or Connix among others.
This very united group was maintaining a 1-minute advantage in almost the entire cycling segment, reaching T2 with 45 seconds compared to the chasing group where it was Antonio Serrat and Genis Grau.
More than 3 minutes later, the group of Mario Mola and Sergio Baxter arrived at the transition.
In the first kilometers of the race on foot, a group in the lead was formed with Pereira, Le Corre, Bergere and Dévay who went through the first lap with an advantage of 6 seconds over Connix and Schomburg and 12 over a group of triathletes.
On the second lap it was the French treble in the lead with Connix, Bergere and Le Corre going it alone to dispute the victory.
By the third lap Bergere was already the leader leaving alone.
Finally the victory was for Leo Bergere with a time of 1: 41: 09 followed by Pierre Le Corre and by Dorian Connix third.
As for the Spaniards, the best Spaniard has been Genis Grau 26th, followed by Mario Mola, with a great comeback 31st, Sergio Baxter the 33º and Antonio Serrat the 49º.
Men's 10 Top
| | | | |
| --- | --- | --- | --- |
| Post | Athlete | Country | Time |
| 1. | Leo Bergere | FRA | 1:41:09 |
| 2. | Dorian Coninx | FRA | 1:41:17 |
| 3. | Pierre Le Corre | FRA | 1:41:24 |
| 4. | Csongor Lehmann | HUN | 1:41:30 |
| 5. | Jelle Geens | BEL | 1:41:39 |
| 6. | Joao Pereira | BY | 1:41:49 |
| 7. | Jonas Schomburg | GER | 1:42:08 |
| 8. | Michele Sarzilla | ITA | 1:42:33 |
| 9. | Simon Westerman | SUI | 1:42:39 |
| 10 | . Bence Bicsak | HUN | 1:42:46 |