Madrid city candidate for the 2020 Olympic Games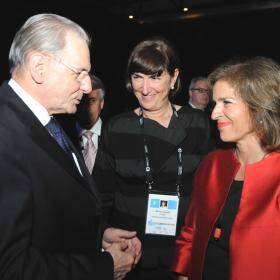 Madrid has ceased to be an aspiring city and has become a candidate city for the 2020 Olympic Games. Yesterday it passed the cut in Quebec (Canada) and will fight for the third consecutive time for the Olympic nomination. They accompany him in the race Istanbul and Tokyo. The final decision will be made on September 7, 2013, in Buenos Aires.
The International Olympic Committee (IOC) warns, in any case, that "the economic situation of Spain should be the object of particular attention", but values ​​"the experience of its previous candidacies" and that "it is very sporty" in its approaches.
For Ana Botella, mayoress of Madrid, "the job was done and that has been noticed." Alejandro Blanco, president of the COE, was "very happy" and insisted that "Madrid bets on the Games as a factor of economic regeneration."
Doha and Baku have been left out. This, the capital of Azerbaijan, was a stone guest at the Canadian event. Doha was strong, but finally it has been displaced, once again, and not only because of the dates it proposed (in October), but "by other criteria", according to the director general of the International Olympic Committee, the Swiss Gilbert Felli, a man with vast power in the Olympic media.
Precedents Yesterday was a technical decision. Political and strategic motivations difficult to assess will intervene in the final verdict. On the previous two occasions Madrid had no problems making the cut, but could not win in the final vote. In the candidacy for the 2012 Games, she finished second in the previous ranking, behind Paris and ahead of London, but in the end it was the British capital that took the Games.
Four years later, Madrid opted for the 2016 Games and again passed the cut in second position, after Tokyo and ahead of Chicago and Rio de Janeiro, which replaced Doha, which offered dates for the Games not accepted by the COI. The Brazilian city was finally the winner, to general amazement.
Both Istanbul and Tokyo will be very tough rivals. According to the continental cycles, this time it could be up to Europe to organize the Games again, and there Madrid will have to fight with the Turkish city, thriving and belonging to an increasingly influential country. But Asia, a growing continent, could also be an option.
The 7 of September of the 2013 is decided
The IOC will decide the venue for the 2020 Olympic Games on September 7, 2013. Until then, Madrid will have to spend other key dates. January 7 of next year will be the deadline for submitting the application dossier. Between February and April, the three cities will receive a four-day visit from the Evaluation Commission, which will issue its report on August 7
Source: as.com