Bad luck for Gómez Noya in Geneva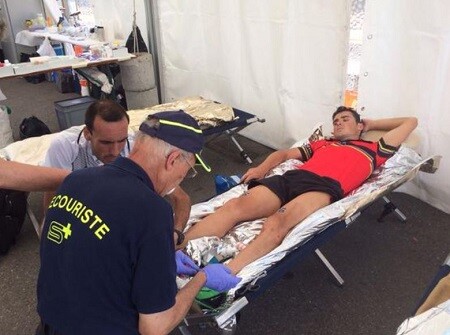 The reigning world champion and 3 times European champion could not finish in Geneva the European Championship after several incidents during the first kilometers of the cycling tour through the streets of the Swiss city.
After finishing swimming well placed for the cycling phase, he suffered a fall shortly after leaving the transition zone when he had not yet squeezed both shoes.
This had a double consequence: a cut in the sole of the foot and the front wheel being damaged. He could change it in the zone enabled for it after the 1ª of the 6 turns, but that supposed him to lose contact with the group of head. It was therefore relegated to a second group that finished the cycling phase to 3 minutes of that group of some 20 triathletes. Something that left him without victory options.
But not only for this but also for the cut on the sole of the foot, the most logical option was not to go for a run bearing in mind that within a week it is held in Hamburg the next appointment of the World Series in which occupies the 1ª position. Hopefully that wound does not pose an obstacle to give everything in the German city.
Photo @jgomeznoya