Marina Damlaimcourt and Jesús Gomar win at the Triathlon Villa de Fuente Álamo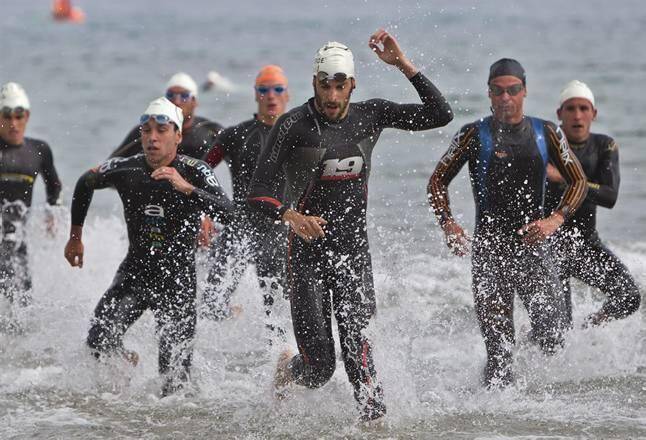 Jesús Gomar confirmed his dominance in the National Triathlon Villa de Fuente Alamo by winning his third win. In the women's event the great favorite did not fail either, Marina Damlaimcourt, Olympic triathlete in London 2012.
In total they were 750 the participants in the traditional athletic event defined by many of the athletes as the best Spanish triathlon. The starting gun was given yesterday at five in the afternoon at Rihuete Beach.
The female test was for Marina Damlaimcourt, who prevailed ahead of Tamara Gómez, champion of Spain in the elite and sub-23 categories in the 2012 duathlon, and Mirian Casillas, Spanish elite sprint triathlon champion in 2012.
The male podium was led by Jesús Gomar, a more than known already in the Fuente Álamo test, where, with yesterday's, he already has three absolute victories. The silver went to Oscar Vicente, Junior World and European Champion in 2008; and the brush for the second consecutive year went to Vicente Hernández, European champion and one of the promises of this sport.
One of the most important tests on the national scene has just concluded, the Villa de Fuente-Álamo National Triathlon, with a total of 750 triathletes. This test is defined by all triathletes as the best triathlon in SpainThis is due to a very excellent organization that strives every year to improve it and to continue giving the treatment they deserve.
Of the five paratriathletes only two have crossed the finish line, Valerio Moreno Garcia, in first position and Luis Miguel Gonzalez Sousa in second. Great value of these athletes who even with the heavy rain have managed to come to an end.
The weather conditions were good only during the morning, since once the race started, it started to rain, ending in a great deluge. Luckily there have not been any strong falls to regret.
At the end of the test, the triathletes reached the finish line and went through a refreshment station where they were offered drinks and a large quantity of fruit. They were also offered the traditional massage that they appreciate so much.
Source: .laopiniondemurcia.es