Mario Mola second in the Cross of Alcalá de Henares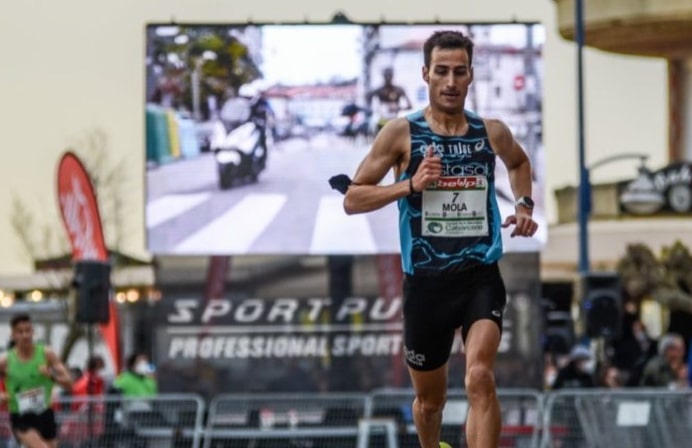 The triple world triathlon champion, Mario Mola, I have competed again today in the cross modality.
Has done it in the Alcalá de Henares National Cross where he finished in second position just 3 seconds behind the winner.
The victory has been for Sergio Jimenez with a time of 20: 39 followed by Mario Mola (20: 42) and by Jorge González (20: 52) occupying the third position.
Mola has returned to compete as usual in this type of running competitions just 1 week after having done it in Aranda de Duero where he finished in a great sixth position.
Top 10
| | | | | | | | | | |
| --- | --- | --- | --- | --- | --- | --- | --- | --- | --- |
| E.g. | Dorsal | Name | Club | Sx | Cat | By Cat. | Art. | Time | Rhythm |
| 1. | 47 | SERGIO JIMENEZ | CASTELLÓN BEACHES | Man | SEN M | 1 | | 0:20:39 | 2:52 |
| 2. | 3 | MARIO MOLA DIAZ | ADA BALD | Man | SEN M | 2 | | 0:20:42 | 2:53 |
| 3. | 5 | JORGE GONZALEZ RIBERA | CAPEX | Man | SEN M | 3 | | 0:20:52 | 2:54 |
| 4. | 6 | JOSE SPAIN COMENDADOR | ADA BALD | Man | SEN M | 4 | | 0:21:06 | 2:56 |
| 5. | 52 | DANIEL HERNANDO NOVO, | AD MARATHON | Man | UNDER-23 M | 1 | | 0:21:13 | 2:57 |
| 6. | 18 | JAIME GONZALEZ MANCHA | UNION ATLETICA COSLADA | Man | SEN M | 5 | | 0:21:18 | 2:58 |
| 7. | 2 | JESUS ​​SPAIN COBO | ATL FRIENDS. VALDEMORO | Man | SEN M | 6 | | 0:21:21 | 2:58 |
| 8. | 29 | RODRIGO MENDOZA JIMENEZ | NUMANTINO ATHLETICS | Man | SEN M | 7 | | 0:21:30 | 2:59 |
| 9. | 4 | JORGE BLANCO ALVAREZ | ASICS RUNNING | Man | SEN M | 8 | | 0:21:43 | 3:01 |
| 10. | 58 | ANDER MICHELENA BELTRAN DE HEREDIA | SPORTING VEGETABLES | Man | UNDER-23 M | 2 | | 0:22:08 | 3:04 |