Triathlon News
Mario Mola second of the World Cup, Javier Gómez Noya third and Fernando Alarza fourth
The Mallorcan climbs to second place with options to get the world title.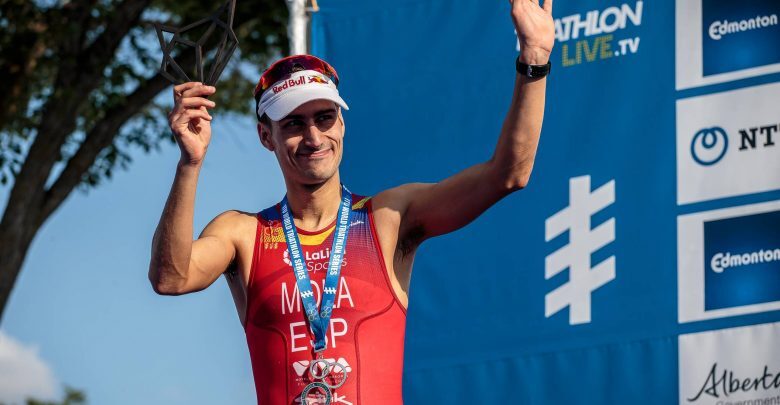 After the seventh test of the circuit in Edmonton, the French Vicent Luis he has managed to maintain the lead finishing in fifth place in the race.
Only 397 points of difference between Luis and Mola
After the great performance of the Mallorcan Mario Mola with the second place today and the bad luck of Javier Gómez Noya who has had to withdraw from the race, due to a fall in the cycling segment Mola has climbed to the second position in the Ranking, leaving him as options to get his fourth world title.
Fernando Alarza he has been eighth in the race leaving him with options to be on the podium after the grand finale of Lausanne to be played next August 31.
Vicent Luis with many options to get the title
The Grand Final gives 1.250 points to the winner, so Vicent Luis would proclaim himself World Champion as long as he finishes among the first 6s as long as Mario Mola wins the last test.
Difficult to see the Triplet of the Triarmada
After the 7 contested tests, there are options for us to see the Triplete on the WTS podium of the Spaniards, but everything happens because Luis can not finish the race.
| | | |
| --- | --- | --- |
| First Name | Last Name | Total Points |
| Vincent | Luis | 4180 |
| Mario | Mola | 3783 |
| Javier | Gomez Noya | 3687 |
| Fernando | Alarza | 3325 |
| Jacob | Birtwhistle | 3255 |
| Marten | Van Rail | 2989 |
| Henry | Schoeman | 2905 |
| Léo | Bergere | 2512 |
| Hayden | Savage | 2485 |
| Jelle | Geens | 2438 |
| In my opinion | Bicsák | 2348 |
Everything will be decided in the Grand Final on Olympic distance
The last round of the 2019 Triathlon World Series will be held in Lauusane, Switzerland on Olympic distance.
This year Dorian Connix in Bermuda, Vicent Luis in Yokohama and Jacob Birtwhisle in Leeds won in this distance. The only Spaniard to get on the podium was Javier Gómez Noya with a second place in Bermuda.
This last test promises to be exciting, where surely the title will be played between Vicent Luis and Mario Mola.
Katie Zaferes with many options to win the world
After the test today where the first 3 of the Ranking has not participated and that Taylor Brown was only fifth, the classification remains the same with the North American Katie Zaferes as world leader with 755 points of advantage over Jessica Learmonth and 804 about Taylor Brown.
| | | |
| --- | --- | --- |
| First Name | Last Name | Total Points |
| Katie | Zaferes | 4925 |
| Jessica | Learmonth | 4170 |
| Georgia | Taylor-Brown | 4121 |
| Taylor | Spivey | 3981 |
| No | Stanford | 3435 |
| Summer | Rappaport | 3201 |
| Rachel | Klamer | 2597 |
| Joanna | Brown | 2319 |
| Cassandra | Beaugrand | 2189 |
| Clear | Michel | 2117 |
| Emma | Jackson | 2080 |