Triathlon News
Mario Mola wins the Pan American Sprint Triathlon Cup in Clermont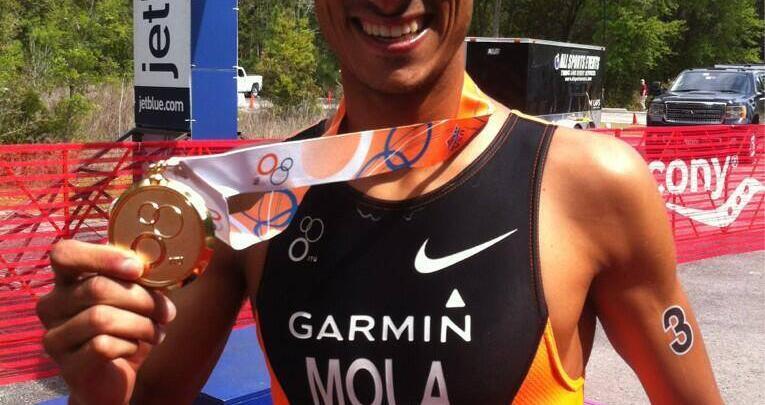 The Spanish Mario Mola has been imposed on ITU Sprint Pan American Triathlon Cup disputed in the town of Clermont (Florida) in the Spanish dawn. In Female category Carolina Routier He has won 6th place.
Mola he won in this test with a final time of 53:56 with 16 seconds of advantage over the South African Richard Murray and the American Jarrod Shoemaker which entered 20 seconds of Spanish. Mario has made the best part of the running race with a time of 00:15:07
Francesc Godoy I finished the test in 15th position with a final time of 00:56:14
Note the withdrawal of the American Lukas Verzbicas that reappeared in competition after his terrible accident last year.
In the Feminine category the North American prevailed Sara Groff with a final time of 1: 00: 17 followed by 6 seconds of the Danish Helle Frederiksen and in third position of Katilin Donner with a final goal time of 1: 00: 31.
Classifications:
Mascunlina
| | | | | | | | | | | |
| --- | --- | --- | --- | --- | --- | --- | --- | --- | --- | --- |
| 1 | Mario | Mola | ESP | | 00: 53: 56 | 00: 09: 29 | 00: 01: 18 | 00: 27: 39 | 00: 00: 25 | 00: 15: 07 |
| 2 | Richard | Murray | RSA | | 00: 54: 12 | 00: 09: 36 | 00: 01: 15 | 00: 27: 36 | 00: 00: 23 | 00: 15: 23 |
| 3 | Jarrod | Shoemaker | USA | | 00: 54: 20 | 00: 09: 35 | 00: 01: 23 | 00: 27: 29 | 00: 00: 27 | 00: 15: 27 |
| 4 | Joao | Pereira | BY | | 00: 54: 29 | 00: 09: 30 | 00: 00: 00 | 00: 00: 00 | 00: 00: 00 | 00: 00: 00 |
| 5 | Kyle | Jones | CAN | | 00: 54: 33 | 00: 09: 34 | 00: 01: 19 | 00: 27: 34 | 00: 00: 21 | 00: 15: 46 |
| 6 | Andrew | Yorke | CAN | | 00: 54: 40 | 00: 09: 39 | 00: 01: 17 | 00: 27: 32 | 00: 00: 22 | 00: 15: 52 |
| 7 | Conor | Murphy | IRL | | 00: 55: 14 | 00: 09: 34 | 00: 01: 17 | 00: 27: 37 | 00: 00: 23 | 00: 16: 25 |
| 8 | Caleb | Vanort | USA | | 00: 55: 19 | 00: 10: 11 | 00: 01: 21 | 00: 27: 32 | 00: 00: 25 | 00: 15: 53 |
| 9 | Andrew | Mccartney | CAN | | 00: 55: 22 | 00: 09: 20 | 00: 01: 33 | 00: 27: 35 | 00: 00: 22 | 00: 16: 33 |
| 10 | Miguel | Arraiolos | BY | | 00: 55: 33 | 00: 09: 44 | 00: 01: 19 | 00: 27: 58 | 00: 00: 22 | 00: 16: 12 |
female
| | | | | | | | | | | |
| --- | --- | --- | --- | --- | --- | --- | --- | --- | --- | --- |
| 1 | Sarah | Groff | USA | | 1: 00: 17 | 00: 10: 17 | 00: 01: 29 | 00: 30: 22 | 00: 00: 27 | 00: 17: 43 |
| 2 | Bright | Frederiksen | THE | | 1: 00: 23 | 00: 10: 34 | 00: 01: 31 | 00: 30: 05 | 00: 00: 26 | 00: 17: 49 |
| 3 | Kaitlin | Give | USA | | 1: 00: 31 | 00: 10: 37 | 00: 01: 29 | 00: 30: 04 | 00: 00: 27 | 00: 17: 55 |
| 4 | Alice | Kaye | USA | | 1: 00: 44 | 00: 10: 36 | 00: 01: 29 | 00: 30: 03 | 00: 00: 24 | 00: 18: 13 |
| 5 | Paula | Findlay | CAN | | 1: 00: 51 | 00: 10: 27 | 00: 01: 24 | 00: 30: 19 | 00: 00: 25 | 00: 18: 17 |
| 6 | Carolina | Truck | ESP | | 1: 01: 07 | 00: 10: 17 | 00: 01: 27 | 00: 30: 26 | 00: 00: 25 | 00: 18: 33 |
| 7 | Katie | Hursey | USA | | 1: 01: 12 | 00: 10: 28 | 00: 01: 23 | 00: 30: 20 | 00: 00: 26 | 00: 18: 36 |
| 8 | Radka | Vodickova | CZE | | 1: 01: 22 | 00: 10: 16 | 00: 01: 34 | 00: 30: 19 | 00: 00: 26 | 00: 18: 48 |
| 9 | Sara | Mclarty | USA | | 1: 02: 40 | 00: 10: 16 | 00: 01: 29 | 00: 30: 20 | 00: 00: 26 | 00: 20: 10 |
| 10 | Lauren | Goss | USA | | 1: 03: 36 | 00: 10: 23 | 00: 01: 25 | 00: 32: 28 | 00: 00: 26 | 00: 18: 54 |