Martín Fiz wins the Lisbon marathon with 1:14:28 in M-60
He has started his challenge of the Super Halfs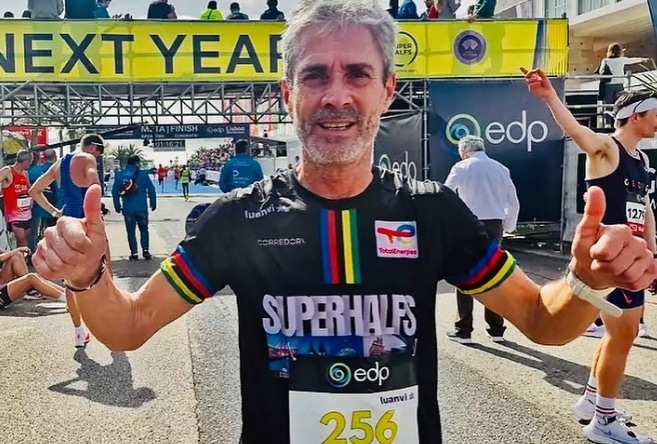 the vitoriano corridor Martín Fiz has achieved a new victory by winning this Sunday in the M-60 category in the Lisbon Half Marathon with a time of 1.14: 28.
He has achieved this victory just three months after he suffered pain that prevented him from running.
His Super Halfs challenge
With this victory, Martín Fiz begins his challenge in Super Halfs, the ccircuit of most prestigious half marathons in the world.
this circuit consists of five tests and the runner from Vitoria will try to win in all of them.
The next races will be in Copenhagen y Cardiff, in September and October 2023
Martín commented on his social networks:
"Winning the Lisbon Half Marathon in M-60
I successfully start my attempt to win all five Super Halfs
Just three months ago I was lame and the pain prevented me from jogging, even at a light pace. Today I have enjoyed again like a child on the asphalt, showing the world and in all professions that you never have to give up.
Today I won the Lisbon Half Marathon, in the M-60 category, with a time of 1:14:28, improving my forecasts.
In this way, I achieve the first of the five steps to meet my new challenge: prevail in Super Halfs, the most prestigious half marathon circuit in the world. The next appointments in 2023 will be in Copenhagen (September 17) and Cardiff (October 1), and he will try to finish off his feat in 2024 with the tests in Prague (April) and Valencia (October).
Who was going to tell me!
At 40 years old I said that I was leaving athletics, at 50 I embarked on the adventure of the Six Majors and managed to win all of them in my category and at 60 I started a new challenge, which consists of winning the Super Halfs.
Today I won Lisbon with a good time and I'm already thinking about the next half of the circuit, which will be in Copenhagen.
I am very motivated and happy. I have had to make a lot of effort, working in solitude weakened him physically and mentally, I have overcome "all" the adversities that had separated me from the competition, but the sacrifice has been worth it.
The loneliness of a long-distance runner who never felt alone but behind a TEAM, he preferred to work alone.
Happy! Next Top The Power"