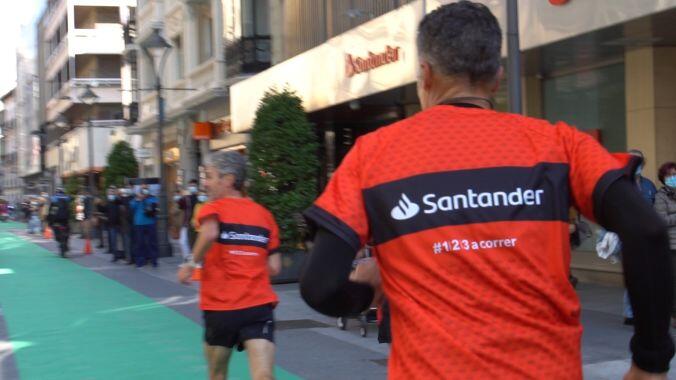 Martín Fiz wins the sprint to Miguel Indurain in Valladolid
Only a few seconds separated them on their arrival at the finish line
Martín Fiz y Miguel Indurain today fulfilled their solidary challenge 20 by 5 km by bike and running in the Fiz-Indurain Challenge that Banco Santander organized through the streets of Valladolid, with final victory of Fiz to the sprint.
The capital of Castilla y León was the scene of the confrontation that captured the attention of the media and the public, under strict sanitary security measures.
The Ambassadors 123aCorrer of Banco Santander were measured not only in their reference disciplines, but also by adopting and testing themselves in that of the other, in an unprecedented challenge inherent to the competitive nature of the two Spanish champions.
The World Cup gold medalist and winner of the Six Majors and the five-time winner of the Tour de France, started the day on a bicycle at 10:30 this morning from the Millennium Dome to face off on a circuit of 20 kilometers per bike lane.
Then, close the challenge with 5 more kilometers of running on foot through the center of the capital as it passes through the Campo Grande and the Plaza Mayor and finish at the Santander Work Café on Constitución street, 8.
The duel began with the activation of two timers that set the initial amount of € 8.500 each against which they faced at a rate of € 50 less for each minute elapsed.
Finally, Martín Fiz, winner of the sprint, set his time at 5.750, a figure that was donated to Down Valladolid, while Miguel Indurain did so at € 5.700, which went to the other chosen organization, the Centro San Juan de Dios de Valladolid.
Equality in the clocks
Equality reigned throughout the challenge, so much so that only twenty scant seconds of difference ended up mediating between the two at the finish line.
As expected, Miguel Indurain made a difference of 6 minutes and 48 seconds to his opponent on a bicycle, a la Martín Fiz managed to overcome by the minimum wearing his running shoes.
Both shone, how could it be otherwise, in their disciplines but left the flag very high in the other.
Banco Santander's 123aCorrer ambassadors sent a message of encouragement to society for the restrictions and sacrifices that it has been making due to the Covid-19 pandemic and encouraged "everyone to fight to fulfill their challenges and dreams."
"That people do not stop playing sports because it is a common good for all and that makes it possible to achieve what we propose as we do today in this Santander Challenge".
The day ended with the Santander Talks in the afternoon, in which the arrival of the ninth stage of La Vuelta Ciclista in Spain was followed upon arrival in the Autonomous Community of Castilla y León and the expert comments from Miguel Indurain, but also from Martin Fiz.
We attach seven photos of the competition with Martín Fiz and Miguel Indurain, accompanied at the start of the challenge by the Mayor of Valladolid, Óscar Puente, the Territorial Director of Banco Santander in Castilla León, Javier Martin Clavo, and Felipe Martin, Director of Sponsorships, Events and RRSS from Santander Spain