Maya Kingma wins the Leeds Triathlon World Series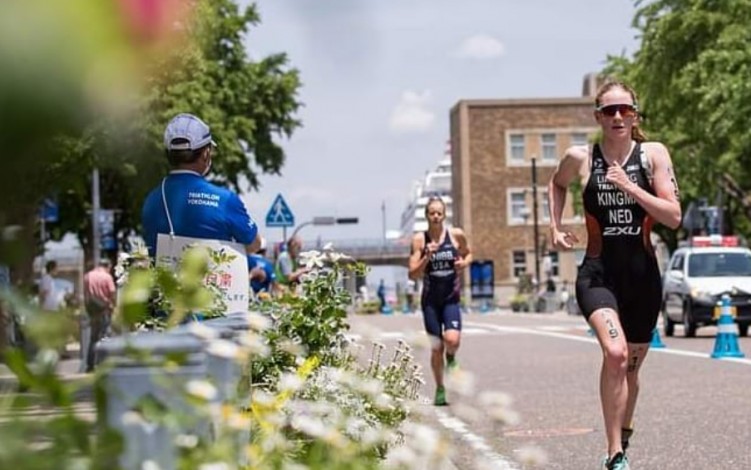 Today the second round of the Triathlon World Series where the first test to be disputed has been the female one.
The competition that had seeds like Flora Duffy .Lucy Charles, Non Standford, Laura Linderman, Maya Kingma, Katie Zaferes o Taylor Spivey among others.
As for the Spanish women, we had the presence of Miriam Casillas y Anna Godoy.
The test began at 14:10 Spanish time with the 1.500 meters of swimming where the first to leave the water was Lucy Charles-Barclay followed by Jessica Learmonth, Sophie Coldwell, Maya Kingma, Beth Potter, Vittoria Lopes and Taylor Spivey in the group headlong
In the cycling segment a leading trio was formed with Learmonth, Coldwell and Kingma breaking the race and going ahead.
Over the course of the 8 laps, the leading trio grew further away from the chasing group, reaching T2 with a 2-minute lead over the group of Duffy, Charles, and Lopes.
The other chasing group passed more than 3:27 of the head where Katie Zaferes and Miriam Casillas were among others. Anna Godoy retired bent in the cycling segment.
In the running segment in the chasing group Flora Dufy left her group mates after the transition trying to cut differences with those in front who were marching together in front.
In the passage through the first lap, Duffy passed 1:32 of the leading trio, leading Spivey and Charles by 40 seconds. In the lead Coldwell dropped out of the group leaving Kingma and Learmonth fighting for victory.
In the second lap Duffy was already 1 minute from entering the podium and kept cutting distance to Coldwell.
In the passage through the last lap the leading duo were still together, while behind Duffy was already 45 seconds behind Coldwell trying to catch up to fight for third place.
We saw an exciting end of the race that was not decided until the last meters where Kingma with a strong attack managed to go ahead.
Finally Maya Kingma achieved victory with a time 1:54:26, being his first victory in a world series
The second classified has been Jessica Learmonth (1: 54: 37) followed by Sophie Coldwell (1: 54: 46). Flora Duffy (1:55:25) was fourth.
The long-distance triathlete Lucy Charles finally it has been fifth in the test.
As for the Spanish Miriam Casillas has been 24th and Anna Godoy has not finished the test
Classification
| | | | |
| --- | --- | --- | --- |
| 1 | Maya Kingma | NED | 1:54:26 |
| 2 | Jessica Learmonth | GBR | 01:54:37 +00:00:12 |
| 3 | Sophie Coldwell | GBR | 01:54:46 +00:00:21 |
| 4 | Flora Duffy | BER | 01:55:25 +00:01:00 |
| 5 | Lucy Charles-Barclay | GBR | 01:56:50 +00:02:25 |
| 6 | Taylor Spivey | USA | 01:57:00 +00:02:35 |
| 7 | Beth Potter | GBR | 01:57:20 +00:02:54 |
| 8 | Cassandre Beaugrand | FRA | 01:57:30 +00:03:05 |
| 9 | Laura Lindemann | GER | 01:58:10 +00:03:45 |
| 10 | Carolyn Hayes | IRL | 01:58:16 +00:03:51 |
| 24 | Miriam Casillas García | ESP | 02:00:03 +00:05:38 |