Murua very close to get the place for the Olympic Games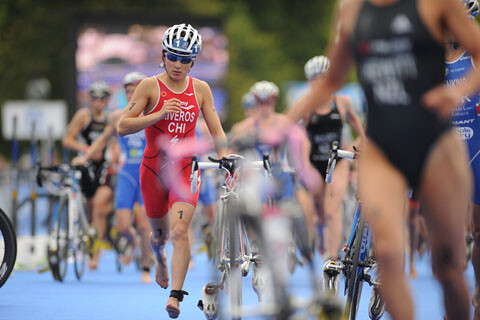 Chilean Barbara Riveros has been proclaimed world champion in sprint distance triathlon, in the last round before the grand final in Beijing. Murua remains in the Top 20 on the verge of confirming his passage to the 2012 Olympics.
Today the sixth round of the Triathlon World Cup was held in the Swiss town of Lausane. Barbara Riveros, with a final time of 00:58:35 has been awarded the first place on the podium after an exciting sprint with the Australian Emma Jackson, 00:58:35, who has left the second position. Third place went to Andrea Hewitt with a time of 00:58:37. Helen Jenkins, current leader of the ranking, has finished in 4th position, 00:58:40
In addition, Riveros with this victory has been awarded his first triumph of the year in the World Championship Series, since this race, in addition to being the Sprint Triathlon World Championship, is valid as the sixth and penultimate date of the World series circuit.
Regarding Spanish participation, we must highlight the 17th position of Ainhoa ​​Murua 00:59:39 and the 38th position of Marta Jiménez, 1:02:17
Helen Jenkins continues to lead the ranking of the Dextro Energy Series of Triathlon with 2913 points followed by Bárbara Riveros with 2712. Paula Findlay, who has not participated in this competition, moves to third position with 2637.
As in the men's event, everything will be decided in the grand final in Beijing on September 10 and 11.
TOP 10
1 Riveros Diaz Barbara CHI 00: 58: 35
2 Jackson Emma AUS 00: 58: 35
3 Hewitt Andrea NZL 00: 58: 37
4 Jenkins Helen GBR 00: 58: 40
5 Gentle Ashleigh AUS 00: 58: 42
6 Jorgensen Gwen USA 00: 59: 02
7 Groff Sarah USA 00: 59: 06
8 Norden Lisa SWE 00: 59: 07
9 Charayron Emmie FRA 00: 59: 09
10 Abram Felicity AUS 00: 59: 09
17 Ainhoa ​​Murúa 00:59:39
38 Marta Jimenez 1:02:17
All results:
http://www.triathlon.org/results/results/2011_lausanne_itu_elite_sprint_triathlon_world_championships/5995/
RANKING
1 Helen Jenkins (GBR) 2913
2 Barbara Riveros (CHI) 2712
3 Paula Findlay (CAN) 2637