A new triathlon circuit «Monegrosman Series» is born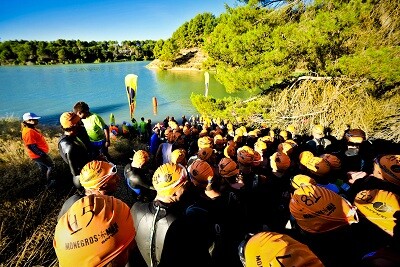 The first circuit of triathlon and duathlon competitions was born in Aragon, which with a total of seven tests on six different weekends, from the months of March to October, is destined to become the benchmark at the regional level and one of the most important at the national level.
The tests of Alcubierre, Leciñena, Sena, San Juan del Flumen (Sariñena), Lalueza and Perdiguera, will bring together a large part of the Aragón championships of the different specialties of the triathlon, and will bring together more than 1.500 athletes between all the tests on the circuit.
Each one of the tests of the Monegrosman Series circuit will be different from each other, in modality and distance, which added to a general classification that computes all the tests, is a great attraction for athletes from Aragonese and neighboring communities.
The town councils of the towns that will host the tests, all of them from the Monegros region, will be in charge of giving the necessary support to the Monegrosman Triathlon Club, organizer of each of the tests and that through the web www.monegrosman.com wants to do get your tests to all athletes.
The triathlon that in 2012 will be present at its fourth Olympics, will receive in Aragon the boost it needed to continue growing as in the rest of Spain.
MONEGROSMAN SERIES 2012 CALENDAR:
4 of March. Alcubierre. (Duatlon 10 / 40 / 5)
March 17. Leciñena. (Duatlon against the clock by teams)
5 of May. Sign. (Duatlon LD 9 / 70 / 9)
7 of Julio. San Juan de Flumen (Sprint Triathlon)
8 of Julio. San Juan de Flumen (Monegrosman LD 1.800 / 72 / 15)
21 of Julio. Lalueza (Olympic Triathlon 1.5 / 40 / 10)
28 of October. Repent (Duatlon Cross 5 / 18 / 2.5)