Spectacular comeback and victory for Nicola Spirig at the European Triathlon Championships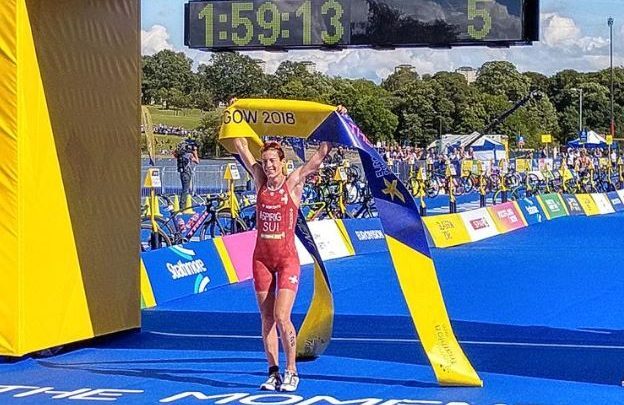 {wbamp-meta name = »image» url = »images / stories / news_08 / nicola-spirig-champion-europe-triatlon.JPG» width = »300" height = »150"}
The Swiss has made a spectacular comeback in the cycling segment, to finally get its sixth European title in the specialty
Today the women's event of the Triathlon European Championship about Olympic distance in Glasgow where we have seen a spectacular comeback of Nicola Spirig in the cycling sector, neutralizing it alone 50 second disadvantage, reaching the head and getting the final victory in which is your sixth European title.
The test began with the 1.500 meters of swimming where we saw a very broken segment with several groups, after the 2 laps Jessica Lermonth and Cassandre Beaugrand came out in the lead followed at 40 seconds by the Spanish Sara Perez and Anna Godoy. The main group came out of the water with more than 1 minute of advantage.
In the cycling segment, we saw how the duo of Lermonth and Beaugrand did not stop shooting, and behind them the Spaniards were reached by the group, where Sara Perez suffered a fall and had to withdraw from the test along with Angelica Olmo and Lotte Miller also involved in the fall.
Nicola Spiring from the first moment was in front of the pursuer group, where he finally escaped to go little by little reducing the distance to finally take the lead in the absence of 1 return to the end, where they left the French to which reached the pursuer group arriving at the T2 with 1: 24 of disadvantage over the leaders of the test
In the 10 kilometers of carrea on foot Nicola Spirig he printed a strong rhythm from the beginning that served to increase the advantage and thus get the victory and his sixth world title with a time of 1: 59: 13. The second one to enter was Jessica Lermonth (1: 59: 46) followed by Cassandre Beaugrand (2: 00: 57) occupying the third final place
As for the Spanish Anna Godoy it was eleventh while Camila Alonso y Sara Perez they did not finish the test
Tomorrow it will be the boys' turn, where Fernando Alarza leads the triarmada with Vicente Hernández, Uxio Abuin y Antonio Serrat The test will start at 16: 00 tomorrow vienres
Photo: @triathlonlive