Triathlon News
Interview with Omar González, trainer of Fernando Alarza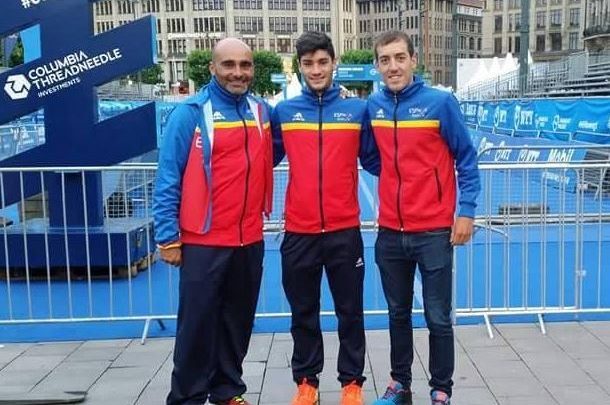 Omar Gónzalez is the coach of Fernando Alarza, Antonio Serrat, Camila Alonso and Maria Ortega among others
After a long season (which is not over yet) we interviewed Omar González, responsible for the section of the Galician Triathlon Federation of the Galician Center for Sports Tecnification of Pontevedra and coach of Fernando Alarza among other elite triathletes.
Good Omar. Most of the elite triathletes you train have been competing at the highest level for many months. How is that basic work in preseason to get then perform for so many months?
From November to the month of March we focus on developing the key aspects of triathlon that we believe are necessary to perform at the highest level for the rest of the season.
What do you mainly focus on?
Work in the water, technique and strength have full priority.
You also traveled to Lanzarote to train. Where did you put more emphasis and what different trainings to Pontevedra did you carry out?
That's right, in Lanzarote both the bicycle and the race take a greater role. Possibly it is the hardest period and the most hours of training.
And once the competitions begin, how do you face them to be able to perform at the highest level for so many months?
We start competing without being at the highest level but being competitive, little by little we try with days of competition to reach the days indicated in the spreadsheet in red. Normally we look for two competitive periods.
Individually we wanted to ask you a little about the main elite triathletes you work with, if you can give us a brief summary of the season of each of them and the objectives for 2017:
Fernando Alarza:
A bronze medal in the general of the world cup and the victory in the World Series of Cape Town says it all.
Objectives, as up to now we want to continue progressing and improving our weak points, there are aspects to be improved and that we must do.
Antonio Serrat:
Great progression and consistency just missing finishing. Two top 10 in WC in two shares and 2 top 30 in World Series in 2 shares.
Objectives, continue like this.
Luismi Velasquez:
Very happy with his progression in all disciplines, especially on foot. With an 16 brand: 15 in 1500 must consolidate it in top level competitions.
Camila Alonso and Joselyn Brea:
Very happy with their respective progressions. Objective: We are trying to train two triathletes for high performance and I think we are on the right track.
María Ortega:
Although he is no longer in Pontevedra, I try to help him as much as I can.
Of those that we have not named, could you cite any of the young people that we should consider for 2017?
I would love Carlos Brion, Martin Carrera, Iago Lorenzo, Cristobal Dios, .. begin to lean out of the national seats.
Omar, you are the head of the group of triathletes of the CGTD but besides you, who forms your team?
My work group I direct alone, where I do not arrive, I look for good professionals that allow us to improve. I am lucky to be surrounded by great professionals always willing to add. At the federative level, Jonathan Cancela directs the FEGATRI technification group in the CGTD.
And finally, do you want to thank someone in particular for the collaboration or help you have had during this year?
Of course, none of this would be possible without the support of the Galician Federation of Triathlon, the Xunta de Galicia, my athletes, clubs and the whole Triathlon family.