Óscar Vicente manages to enter the top 10 in Cremona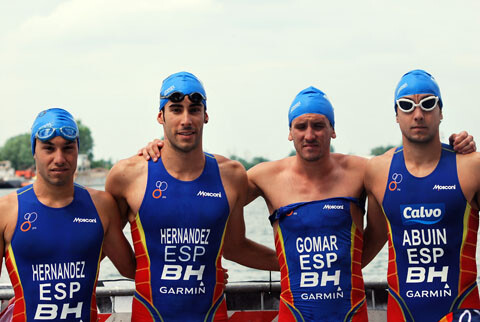 At 11:30 last Sunday, the 75 participants of the elite men's event took the start in the Sprint Triathlon European Cup held in Cremona (Italy).
The swimming section passed very quickly, and the first to leave the water were the American Tommy Zaferes and the French Raoul Shawse. For their part, Igor Polyanskiy and Andrey Bryukhankov (younger brothers of Dmitry Polyanskiy and Alexander Bryukhankov), along with Vyacheslav Pimenov set the pace on the cycling circuit, forming part of a 12 triathletes getaway.
The leading squad entered T2 with a margin of 1 minute and 15 seconds ahead of the rest. From behind, two more groups were formed, which would reach T2 merged into a large block of approximately 40 triathletes.
Over the course of the foot race, Briton Thomas Bishop set his pace from the get-go, leading the sector to victory. The silver went to the Russian Igor Polyanskiy and the bronze went to the Swiss Florin Salvisberg.
For their part, the Spanish arrived at T2 leading the second platoon. The first to cross the finish line, achieving the best partial in the race on foot, was Óscar Vicente who obtained 10th place. While Vicente Hernández achieved the 12th position; Jesús Gomar, who suffered a penalty in the race, finished in 16th place; Uxio Abuín was 17th and Ricardo Hernández, 27th.
Male classification:
1 Thomas Bishop RU 00: 54: 57
2 Igor Polyanskiy RUS 00: 55: 26
3 Florin Salvisberg SUI 00: 55: 32
4 Ryan Fisher AUS 00: 55: 40
5 Tommy Zaferes USA 00: 55: 47
-----
10. Oscar Vicente ESP 00:56:13
12 Vicente Hernández ESP 00: 56: 32
16. Jesus Gomar ESP 00:56:45
17. Uxio Abuín ESP 00:56:49
27 Ricardo Hernández ESP 00: 57: 12
FETRI