First qualifier of the year of duathlon cros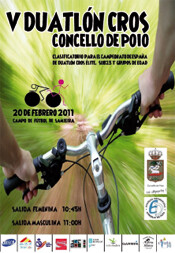 Everything is ready for the first qualifier of the 2011 Spanish Duathlon Cros Championship, which will be held next Sunday February 20 in the town of Concello Poio (Pontevedra). The duathletes will fight to obtain a place for the Spanish Cros Duathlon Championship that will be held this year in El Anillo (Cáceres) on May 1.

In the Male category we will have the presence, among the favorites, of Rubén Caamaño, Jose Francisco Suarez and Juan Sebastián Díaz.
In the female category, highlight the presence of Rosa Bravo, winner of the 2010 Ranking in this modality, who after attending the 2010 Triathlon Gala where she will be presented with the trophy for this first position in the Ranking, will travel to the Concello de Poio (Pontevedra), to fight for the first place on the podium in this first qualifying of the year cros duathlon.
http://www.triatlon.org/competiciones_11/sites/duatloncros_poio/duatloncros_poio.asp