Historical record for the Seville Triathlon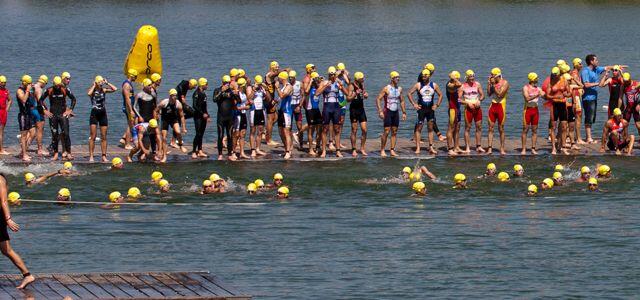 Almost 3.000 triathletes will be at La Cartuja on Saturday
Just three years ago, 400 participants took the start
20% of those registered are foreigners, with which there will be an important tourist return for the city.
The Seville Triathlon, which will be held next Saturday, May 19, has once again beat its own participant records and has closed its registrations. In this way, the landmark test of the Andalusian community in this discipline and one of the most important in the national calendar far exceeds the previous edition and is a reflection once again of its undeniable growth. Almost 3.000 triathletes will start at the CAR of La Cartuja. In this order, the Olympic distance was closed first, then sprint and, finally, (one day earlier than planned) the super sprint category was closed.
In just three years, the Seville Triathlon has taken an important quantitative leap in terms of participants. If in 2009 there were 400 registered, a year later it reached 2000. In the last edition there were 2500 and now it is close to the third thousand. So the number of registered has multiplied by more than seven.
The triathletes who will wear the number on Saturday are, for the most part, Sevillians and Andalusians. But athletes from all over the Spanish geography will also arrive. In addition, 20% of them participation is international.
Thanks to the XVI Orbea Orca Triathlon in Seville, the balance of tourism in the city will increase. And not only that, but it will be the benchmark for foreign participants to return to Seville on future occasions to continue getting to know it and enjoy its wonderful climate to train, since its annual average 22ºC make its streets the perfect place for any athlete worth its salt.
The Seville Triathlon is organized by OFSport, the Municipal Sports Institute of the Seville City Council and the Andalusian Triathlon Federation. In addition, it is sponsored by the Orbea and Orca brands. This new edition of the classic Seville event will be held over three different distances with wave starts: Olympic (1.500 meters of swimming, 40 km cycling and 10 km of running), Sprint (750 m, 20 km and 5 km ), and Super Sprint (350 m, 10 km and 2,5 km).
One of the objectives of the renewed Seville Triathlon is to promote a very high participation and to attract the maximum number of people to this sport for the first time in a total sports holiday. For this, it will also be possible to participate in the Relay modalities, as well as in the Equality Triathlon (in pairs) and the Children's Triathlon. It will be a very affordable triathlon for the uninitiated, and also focused on promoting the city and the province for tourism.
More information at www.triatlondesevilla.com