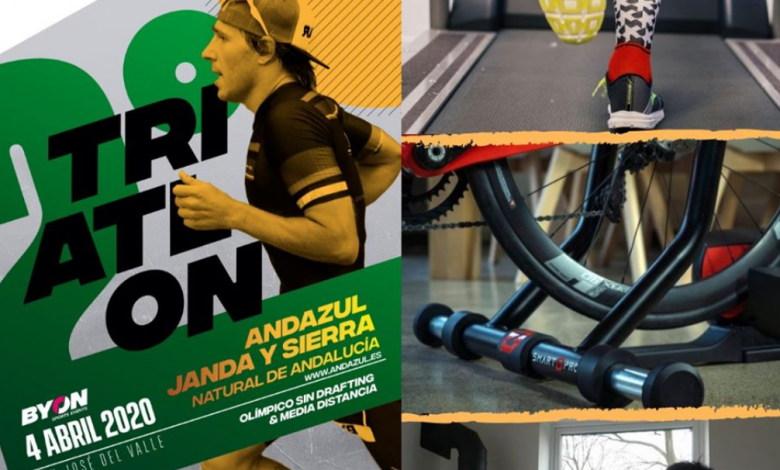 Our friends BYON They have organized an online challenge, the same day that the test had to be held,
In this eI sell online, the participants will be able to compete online in the circuits of the Triathlon Janda and Sierra, known as the "Cádiz legbreaker".
When is the competition?
The competition will be next Saturday, April 4 and it will be possible to follow live through BYON social networks with Jonathan Roldán and platform Bkool from the 10: 00
What do i need to participate?
The challenge consists of accompanying Jonathan Roldán in completing the distance of the test. He will do it from his home and will swim in a pool secured with rubber bands.
If in your case, you do not have material, you can do swimming with rubber bands, cycling through Bkool and running at home.
The important thing is to collaborate since you will surely have a great time accompanying him in the challenge. Jonathan tells us
We are with you Jonathan! ???? This is how our friend prepares the swimming part for the MD of #JandaySierraDesdeCasa this Saturday. Body and mind are united in every sporting event worth its salt and the nutritional part is very important to face a triathlon. These are the advice he gives us as an athlete and director of NUTTU?: "Due to confinement, logically routines change, schedules change and therefore I try to adapt to the situation. One of the most significant changes that I have incorporated and of great importance for any athlete it is rest. Due to stress, the management of my company, the family, many times the hours of rest were not the desired ones (and I am not only talking about quantity but also quality). Currently I am doing something that Before I couldn't afford to sleep 8 hours a day. As for food, I have not incorporated any special changes. My eating routine has always been very careful and now what I do is continue doing it, even in more detail. I have Very established routines that I try not to change, since they work, I like them and that is the important thing. An example of this is that I continue to have the same breakfast, my coffee and my toast. At mid-morning I have my fruit, adding av Do you have some nuts or not. Lunch is where I most try to vary depending on the training. Some models of lunch that I make with a load of carbohydrates are: chickpea salad, quinoa, pasta, rice with vegetables. I alternate these models with models that are richer in protein and healthy fats such as scrambled vegetables, vegetables with salmon, vegetables with veal or chicken, but the base of any meal is always my vegetables. Snack is where I like to change the most. I take everything from yogurt with oatmeal, fruit and nuts to oat pancakes and egg whites with fruit. You can see examples of many of these meals and snacks in my Nuttú networks, where I share many of the recipes that I prepare with my followers on a daily basis. For dinner I am simpler and any sautéed vegetables and meat, vegetable cream, vegetable omelette, scrambled eggs, assorted salad, etc. will do. always trying to make it a complete meal rich in all the nutrients I need. "Remember, we are waiting for you this April 4 at 9:30 am on YouTube and Facebook Live. Don't miss it! ??? ->? https: //byonsport.com/jandaysierradesdecasa/#triatlon #triatlhon #triatlonofficial #triatlonsupersprint #triatloners #triatlonsprint #triatlontraining #triatlonestilodevida #triatlonista #triatlonolimpico #triatlonbike #swimming #run #fast #chavallevidle #sanjoseport19 #JandaySierra #olimpico #mediadistance #Half #QuedateEnCasa City Hall San José del Valle (Official) #health #coronavirusBYON

Posted by BYON on Wednesday, 1. April 2020
It is done for a solidary cause
Also ... It is for a solidarity cause! Since 500 masks and 500 gloves will be donated to fight the coronavirus
The distances
OLYMPIC
Swimming: 1.500 m. (09: 30h - 25 ′ approx.)
Bicycle: 40 km. (10:00 a.m. - 1:30 a.m. to 2:XNUMX p.m.)
Foot race: 10 km. (12: 00h - 1h approx.)
Bicycle: Download Olympic track
MIDDLE DISTANCE
Swimming: 1.900 m. (09: 30h - 30 ′ approx.)
Bicycle: 85 km. (10:00 a.m. - 2:40 a.m. to 3:XNUMX p.m.)
Foot race: 21 km. (13: 00h - 1h - 50 ′ approx.)
Bike Download track MD|
How do I sign up for Bkool?
Register as a user here!.
Download the program and install it on your PC, tablet or mobile. > Download
Get in and sync your roller by following the steps.
The live test from 10:00
The only thing you have left is to join the live test, which will be available around * 10:00 a.m. * in the LIVE COMPETITIONS section of the platform
Further information: https://byonsport.com/jandaysierradesdecasa/