Triathlon News
Roberto Sánchez Mantecón, "winning the World Cup is like a gift, it is a title that puts you in the spotlight for a year"
The Valencian was proclaimed U23 World Champion in Lausanne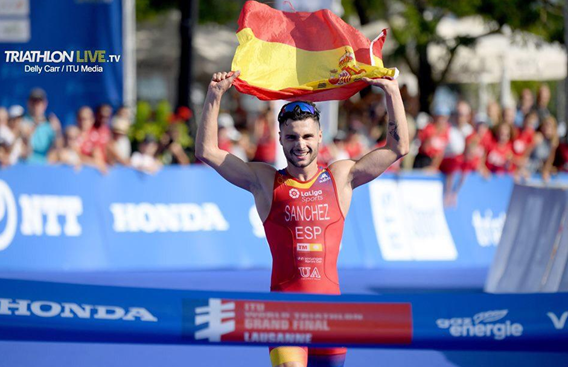 2019 has been a great year for the triathlete Roberto Sánchez Mantecón, with the U23 world title, third place in the World Cup in Madrid and his World Series debut, Roberto faces this 2020 with great enthusiasm and looking to the future.
That is why we wanted to do an interview to know a little more in detail his assessment of the season and plans for next year.
This year, you have achieved something special, being a U23 world champion, now that the season is over, how do you feel, what do you think it can mean for your career?
Yes, this year I managed to be the U23 world champion, it was the main goal of the season,
At first we considered being in the top 5 in the World Cup, since in other years I could not have been competitive in that test, for having stayed in groups behind the road and in the end we have achieved it in the best way.
For me, winning this race is like an award, I have been dedicated to triathlon for 18 years, initially enjoying it and now as a professional triathlete.
It's like a gift, it's a title that puts you in the spotlight for a year and in terms of sponsors and scholarships, and institutional support has been greatly increased
This 2019, you debuted in the WTS of Hamburg, in 2020 you will go to more tests How do you think about it?
This year I won the place in the World Cup in Madrid for the WTS, and my debut in Hamburg, I had the bad luck that when I did the most difficult, after swimming and 3 doing hard laps and getting between 15 First, I was involved in a massive fall, leaving me without options.
Then in the Edmonton WTS, I was not able to keep up. The fall of Hamburg deprived me of being able to train normally, although being honest adding this to the inexperience in world series, I could not finish the test.
By 2020, we are going to try to be in the WTS in distance sprint in Abu Dhabi and Hamburg, two good options since it is Olympic year and the games are going to mark a lot the calendar of all.
Hamburg will be a great option to make a good performance in a world series
As for the ITU mixed relay in which you have already participated, what do you think of this type of competition? Do you think it is the future of this sport?
I think it is a super spectacular test, it will be the future, the triathlon is going to be much more television watching this type of tests.
This year we get sixth place in Hamburg and whenever the federation needs my participation in any test I will be willing to participate, since I think it is a format that adapts very well to my characteristics.
You told us that you were going to participate again in the Super League, what do you think of this format? Will we see it in Spain again?
I also believe that it is part of the future of our sport, it is a professional league that takes care of the athlete at 100% where the athlete is the real focus.
By 2020, the Championship will have 5 tests and I hope to be in all you can
For you, what are the most important goals of the season?
This 2020 is a difficult year, I am clear about my role, and I want to be a little more regular in the WTS.
My main objective will be the Valencia World Cup, the WTS of Abu Dhabi and Hamburg and the European Olympic Distance Championship. It is a demanding calendar, with these 4 tests marked in red.
If I would like to be in a good shape for the Super League events and for some championship in Spain
How do you see the Spanish team (female / male) for the Olympic Games? Do you see yourself being in the starting line for a year?
The Spanish team, you can not talk better about him, In Lausanne we had our 3 great triathletes in the top 4 of the World Cup, which has not been seen in almost any sport.
For Tokyo I bet on Fernando Alarza, we will prepare the test very well, we are very motivated and we will help you in every way possible.
As for my future participation in some games, we will try to be 100% in the 2024 Olympic cycle in Paris, since Tokyo ends we will focus and go following all the steps to get it, improve the pace of the race, swimming, where I am weaker and continue to grow as an athlete to achieve the goal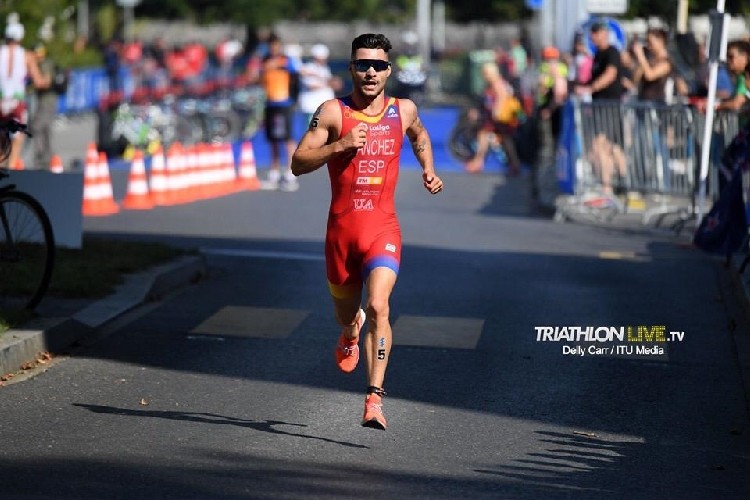 You are in the team of the UA of Alicante, with Cejuela, what does it mean for you to be in a team with athletes and coaches of great level?
I took the step out of the Blume to come here and I think that these 5-6 years have been fundamental in my sports career.
I think I took a very good step and I am very happy with the group that has been done and see how the results are coming out, as a result of having a coach with everything under control.
I want to thank all my Sponsors such as FER Project, Hyundai Koryo Car, BH, Crown Sport Nutrition, Mobel, Verdnatura and Boyer Triathlon