Roberto Sánchez bronze medal in the European Championship Sub23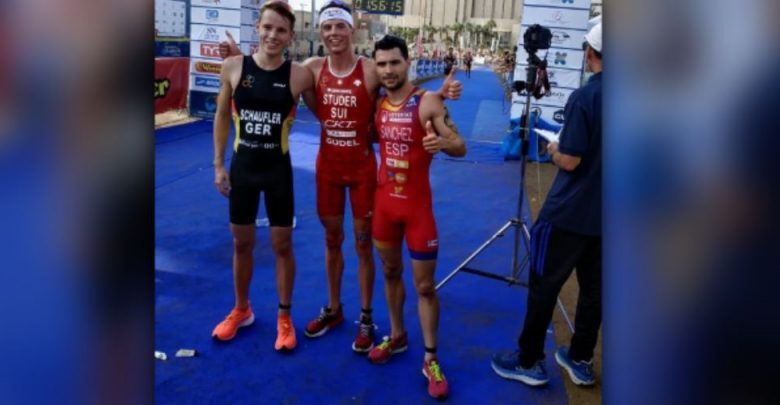 Roberto has obtained the Bronze medal, Ignacio González has been 6th, Javier Romo 10th
Eliat is a city that continues to bring back good memories of the Spanish triathlon, since in 2012 the European Championship was held there, where Javier Gómez Noya he got the gold medal and Ainhoa Murua got the silver one and where now in 2018 Roberto Sánchez he has achieved the bronze medal.
The competition was held under Olympic distance with the 1-500m of swimming in the Red Sea in crystal clear and calm waters. 40 kilometers of cycling to 6 laps and 10 km giving 3 laps to a circuit of 3,3 km.
The victory has been for the Swiss Max Studer with a time of 1: 54: 19, followed by the German Jannik Schaufler (1: 54: 34) and by Spanish Roberto Sánchez Mantecón (1: 54: 36) occupying the third final position. Roberto lost the silver medal in the final sprint with the German Schaufler and a few seconds of the gold obtained by the Swiss Studer
Roberto is completing a great season after the title of Spain champion and the second place in the Alanya European Cup and now the bronze medal in the European Championship Sub23.
As for the rest of Spaniards, Ignacio González was 6th, Javier Romo 10th and Andrés Cendán 21st.
Male classification
| | | |
| --- | --- | --- |
| Max | studer | 01:54:19 |
| Jannik | Schaufler | 01:54:34 |
| Roberto | Sanchez Mantecon | 01:54:36 |
| Ran | Sagiv | 01:54:38 |
| Jack | Willis | 01:54:43 |
| Ignacio | Gonzalez Garcia | 01:54:57 |
| Barclay | Izzard | 01:55:01 |
| Noah | Servais | 01:55:28 |
| Márk | Dévay | 01:55:39 |
| Javier | Romo Oliver | 01:56:02 |
Photo:@RobertoCejuela