Rubén Ruzafa and Alba Reguillo win the Posadas Triathlon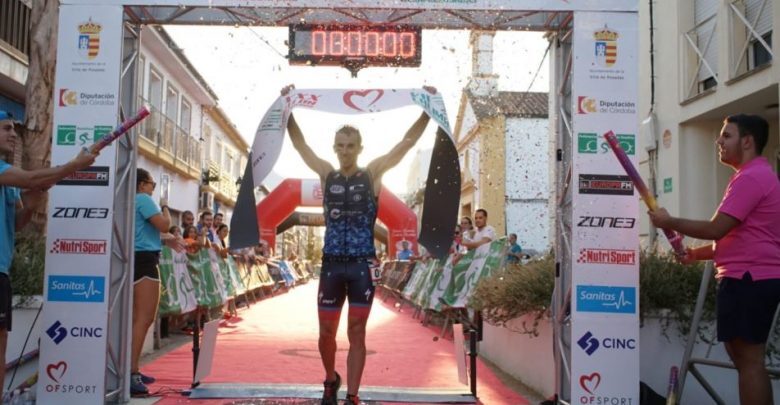 This year the test has achieved the record of registrants participating in the town of Posadas

The Cordovan town of Posadas has once again witnessed one of the most emblematic events of the national calendar, this year celebrating its 30th anniversary and once again beating rrecord of participants in a day where the Caliphs was also Andalucia sprint championship and Calimas Andalusia championship of medium distance.
The participants highlighted the great work of their volunteering and an impeccable organization on a day where the high temperatures marked an epic test in addition to the village festival where hours before an advertising caravan distributed through the streets material of the test to encourage all and all the triathletes.
VII edition of Half Desafío Posadas
Rubén Ruzafa He met expectations and won with total clarity in a test in which he marked the differences in the cycling sector. Ruzafa in third position after the 1900 meters of swimming and put the direct in the 90 kilometers of bike marking the best partial in 2:10:19 thus obtaining the necessary margin to administer it during the final half marathon that he completed in 1:25:35 .
In this way Ruzafa crossed the goal arch stopping the 4 chrono: 03: 06 as first classified. Second place for Sergio Cruz Ferrero almost 10 minutes from the winner and completed the podium Pedro Antonio López de Haro who entered 4: 13: 25.
In the women Alba Regillo was the undeniable winner in a test where the casualties of Patricia Bueno and Gurutze Frades by the high temperatures of the test they gave even more proof of the hardness of the same. Regillo asserted in this case an absolute dominance in the running race with a half marathon time of 1:30:02.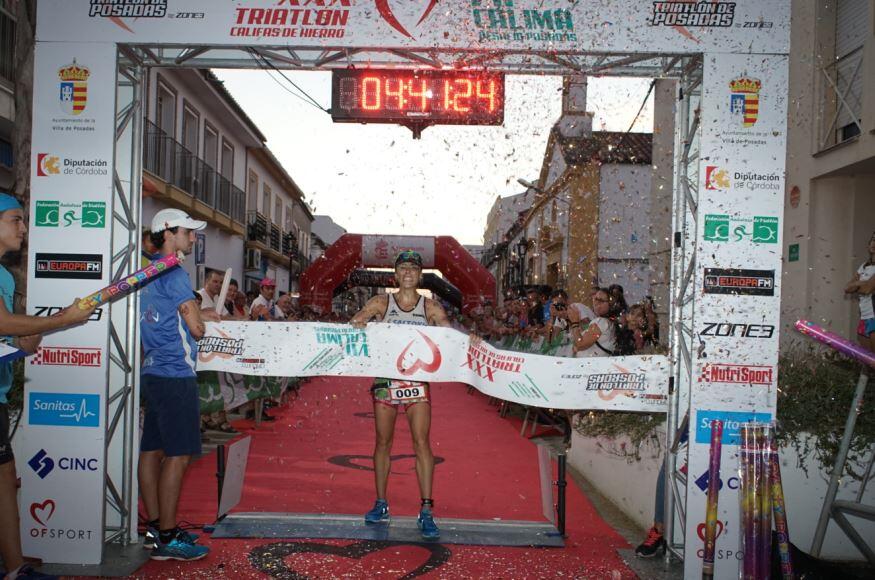 So Alba Regillo crossed as champion of this VII edition of Desafío Posadas in a final time of 4: 55: 24. The second place was for Cristina de la Torre Paredes with 5: 00: 12 and completed this women's podium María Pujol with 5: 02: 07.
Podium championship of Andalusia:
1º: Rubén Ruzafa Cueto: 04: 03: 06
2º: Sergio Cruz Ferrero: 04: 12: 25
3º: Jose Miguel Martín Campos: 04: 17: 19
1ª: María Pujol Pérez: 05: 02: 07
2ª: Marta López Ruíz: 05: 13: 21
3ª: Laia Morón Martín: 05: 20: 02
XXX Iron Caliphs
Camilo Puertas He won again in the men's test with solvency. Already in the town of Posadas a large group of triathletes went down to run with clear views to be champions of Andalusia, being Camilo Puertas who sentenced with a spectacular race on foot. With 1: 03: 45 scored 44 seconds ahead of second place Igor Bellido. 17 seconds later he entered Miguel Higueras that completed the male podium.
In the female category a duet was formed Irene Cabrera y Raquel Úbeda when leaving swimming, and maintaining their positions in the bicycle sector. It was already in the town of Posadas where María Bustamante with a great race on foot he snatched the second place to Úbeda but not enough to reach Cabrera being the same the clear winner.
Podium championship of Andalusia:
1º: Camilo Puertas Fernández: 01: 03: 45
2º: Igor Bellido Mikhailova: 01: 04: 29
3º: Miguel Higueras Bravo: 01: 04: 46
1ª: Irene Cabrera Roldán: 01: 17: 06
2ª: María Bustamante Hermida: 01: 17: 47
3ª: Raquel Úbeda Fernández: 01: 18: 04
On both sides of this great test a great party was celebrated for all the participants and companions, since Posadas once again, and in its 30 edition it signed with great success the reason why it is one of the most spectacular tests of the national calendar. And it is that its people turn to each and every one of its participants, with applause, water, and spectacular words of encouragement to each and every one of its visitors.
Organized by the Posadas City Council and OF Sport, in collaboration with the towns of Hornachuelos, Palma del Río and Almodóvar del Río. Thanks to the great work of the Diputación de Córdoba, and sponsors Zone3, Europa FM, Nutrisport, Sanitas and Cinc.
Further information: www.triatlondeposadas.com