Rubén Ruzafa for all in the XTERRA European Championship
Previous, schedules and where to see it live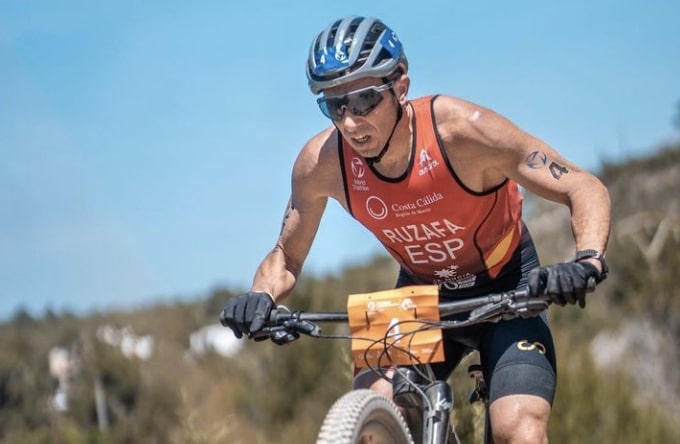 This weekend will take place in Belgium, the third of the seven stops of the XTERRA World Cup.
The Citadel of Namur will host the XTERRA European Championship on primera time.
With 30.000 euros and 130 points at stake, 90 elite triathletes from 20 countries They will fight for the European title including the five best classified in each category.
Favorites
In the elite men's race, all eyes are on Arthur Serrieres, who has won the last three XTERRA European Championship races.
However, Spanish must be taken into account Rubén Ruzafa, who has been the first off the bike at the worlds for nine consecutive years, despite being well behind coming off the swim.
Other names to keep in mind are Felix Serrieres, Maxim Chane, Jens Emil Sloth among others. Another Spanish will also participate, Andres Carnevali.
In the women's race, Sandra Mairhofer She is the great favorite with 2 cross triathlon world championships and winner of the last two XTERRA Europe races.
We will also have to take into account triathletes such as Alizée Paties o Solenne Billouin They will surely try to win.
In this category there will be no Spanish participant.
Schedules and where to watch it live
The test will be held this Saturday June 10 starting at 10:30 CEST and can be followed live through the Official Site or the following video.
Male start list
| XTERRA World Rank | World Cup Position | ATHLETE | COUNTRY |
| --- | --- | --- | --- |
| 1 | 2 | Arthur Serrières | FRA |
| 2 | 6 | Arthur Forissier | FRA |
| 3 | 8 | Ruben Ruzafa | ESP |
| 4 | 15 | Felix forissier | FRA |
| 5 | 3 | Sebastien Carabin | BEL |
| 6 | 9 | Josiah Middaugh | USA |
| 7 | 1 | Jens Emil Sloth Nielsen | THE |
| 8 | 16 | Maxim Chane | FRA |
| 10 | 13 | Lukáš Kočař | CZE |
| 15 | NR | Franco Pesavento | ITA |
| 16 | 4 | Michele Bonacina | ITA |
| 17 | 12 | Sullivan Middaugh | USA |
| 19 | 17 | Xavier Dafflon | SUI |
| 20 | NR | Sebastian neef | GER |
| 21 | NR | Jens Roth | GER |
| 26 | NR | scott anderson | GER |
| 27 | NR | Francois Carloni | FRA |
| 29 | NR | Jules Dumas | FRA |
| 32 | NR | Guillaume Meunier | FRA |
| 33 | NR | Lucas Van Deynze | BEL |
| 34 | NR | Mathias Cloostermans | BEL |
| 35 | NR | Karel Dusek | CZE |
| 38 | 19 | Dominic Wychera | TUE |
| 42 | NR | Theo Dupras | FRA |
| 45 | NR | Geert lauryssen | BEL |
| 48 | 17 | Keller Norland | USA |
| 51 | NR | Tom fisher | AUS |
| 52 | NR | Jaroslav Kulhavy | CZE |
| 54 | NR | samuel jude | SUI |
| 55 | NR | Wouter Dijkshoorn | NED |
| 56 | NR | gaetan vivien | FRA |
| 61 | 21 | Andres Carnevali Del Castillo | ESP |
| 69 | NR | Tomás Strnad | CZE |
| 71 | 24 | Branden Rakita | USA |
| 75 | NR | quinten dewaele | BEL |
| 77 | NR | swiad snieder | GER |
| 78 | NR | Joeri Deleebeeck | BEL |
| 79 | NR | Guillaume Desette | FRA |
| 82 | NR | Quirijn Waaijenberg | NED |
| 83 | NR | Gianfranco Cucco | ITA |
| 85 | NR | Roman Loop | BEL |
| 86 | NR | Tim VanDaele | BEL |
| 87 | NR | Morgan Rhodes | GBR |
| 89 | 27 | paris fellmann | LUX |
| 91 | NR | Matthias Gourgues | FRA |
| 93 | NR | thomas sauser | SUI |
| 96 | NR | Brian Tetard | FRA |
| 99 | NR | Ruslan Farci | ITA |
| 105 | NR | lewis williams | GBR |
| 112 | NR | bart cooymans | NED |
| 114 | NR | Colin Fleming | NED |
| 120 | NR | Kris Coddens | BEL |
| NR | NR | aaron coppens | BEL |
| NR | NR | Thomas Epton | GBR |
| NR | NR | Joachim Libois | BEL |
| NR | NR | Anthony Pujades | FRA |
| NR | NR | James Shalvoy | USA |
Female start list
| XTERRA World Rank | World Cup Position | ATHLETE | COUNTRY |
| --- | --- | --- | --- |
| 1 | 6 | Solenne Billouin | FRA |
| 2 | 1 | Alizée Paties | FRA |
| 3 | 8 | Sandra Mairhofer | ITA |
| 4 | 3 | Loanne Duvoisin | SUI |
| 5 | 2 | Martha Menditto | ITA |
| 9 | NR | Helena Karasková Erbenová | CZE |
| 13 | 13 | Carina Wasle | TUE |
| 16 | 4 | Suzie Snyder | USA |
| 17 | 5 | Elizabeth Orchard | NZL |
| 18 | NR | Segolene Léberon | FRA |
| 21 | NR | Daisy Davis | GBR |
| 22 | NR | Carol Perrot | SUI |
| 24 | NR | Emma Ducreux | FRA |
| 27 | NR | Beatrice Ferrera | BY |
| 32 | 12 | carolyne cool | CAN |
| 33 | 14 | Georgia Grobler | RSA |
| 34 | NR | camille jobard | FRA |
| 36 | NR | Solene Marnoni | FRA |
| 38 | NR | Kerri Ann Upham | GBR |
| 39 | NR | Bonnie VanWilgenburg | GBR |
| 43 | NR | Stepánka Bisová | CZE |
| 47 | NR | Katerina Ježková | CZE |
| 48 | NR | Lorraine Erl | GER |
| 49 | 19 | irena ossola | USA |
| 50 | NR | Pauline Life | BY |
| 58 | 22 | Katja Krenn | TUE |
| 61 | NR | Marine Echevin | FRA |
| NR | NR | maisie aubrey | GBR |
| NR | NR | Charlene Clavel | FRA |
| NR | NR | mandy dammekens | BEL |
| NR | NR | Anna Lena Theisen | GER |