Six Triathletes participate in the parade of the Opening Ceremony of the Olympic Games in London 2012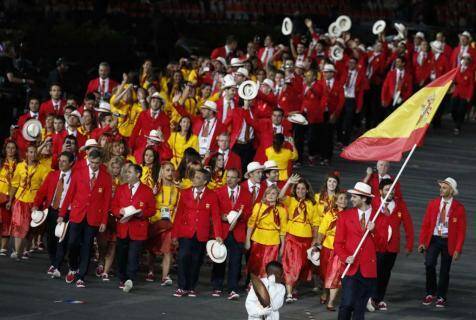 Before 80 thousand people live and 1.000 million who followed it on TV, the opening ceremony began with a recreation of the cultural essence of England to continue with the Parade of athletes from different countries that will be present at the London 2012 Olympic Games
Spain, led by Pau Gasoil, a member of the Spanish Basketball Team and with his 216 cm high, wore the Spanish flag last night in this event as a "standard bearer" of the same.
A total of 279 athletes will represent Spain in this edition, a multicultural country that has within its team nationalized athletes from Brazil, Cuba and even China, among others.
In this parade all were smiles, the Spanish athletes did not stop greeting, taking photos and dancing, under the careful control of the personnel in charge of directing their steps, among whom we could see Javier Gómez Noya representing the Spanish Triathlon Federation, Mario Mola, Jose Miguel Pérez, Ainhoa ​​Murúa, Zuriñe Rodríguez and Marina Damlaimcourt.
With athletes who have in their record with up to 6 Olympic games behind them and with the encouragement of the Queen of Spain from the stands accompanied by the Spanish ambassador to England as well as Antonio Samaranch "Junior", recently appointed member of the IOC executive committee, and all the viewers who were able to follow the ceremony through TVE and Teledeporte, the Spanish athletes once again demonstrated their "ease" in the tour of the stadium.
To end the ceremony, seven young athletes lived up to the Organizing Committee's (LOCOG) motto, 'Inspire a generation', and lit the flame of the London Olympic stadium 2012 in a spectacular action generated by 204 pieces transported by all the delegations participants, a universal cauldron.
The lighting of the flame was the culmination of the Opening Ceremony, the resolution to one of the great secrets of the party designed by British filmmaker Daniel Boyle to open the third Games that London lives in its history after those of 1908 and 1948.
If you missed the video you can see it in this link: http://www.rtve.es/londres-2012/