LIDL Swim Challenge Cascais: An open water challenge ideal for triathletes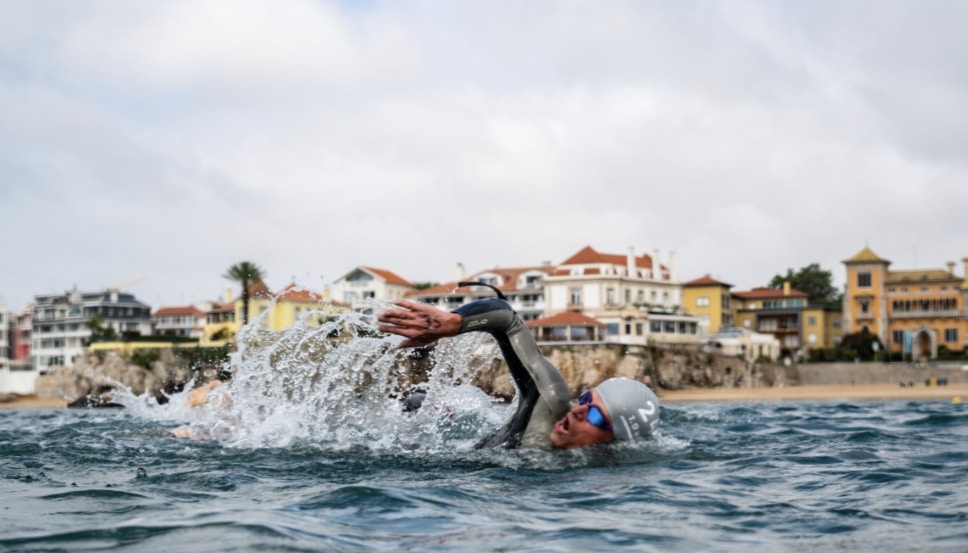 El LIDL Swim Challenge Cascais It has established itself in recent years as one of the most challenging and rewarding tests in open water at an international level. This year the 23 and 24 September of 2023.
Since 2012, this event has taken place at Praia da Ribeira, in the heart of Cascais Bay, offering athletes a unique experience in an epic setting.
Also, for those who have in mind to compete in the IRONMAN Portugal, the Swim Challenge Cascais represents a perfect opportunity to take a preparation test.
The sea conditions, the topography of the course and the competitive environment closely simulate what the athletes will face in the IRONMAN, allowing them to evaluate their performance, adjust strategies and refine their preparation for one of the most prestigious triathlons in Europe.
Natural Beauty of Cascais
Cascais, a fishing village with over 650 years of history, has been the summer haven for Portuguese and European royalty. Its excellent location, white sand beaches and a wide variety of activities for the whole family make this place an incomparable destination for sports and nature lovers.
Beyond its beaches, Cascais offers a rich cultural heritage, with museums such as the Condes de Castro Guimarães Museum and the Casa de Santa María, both reflections of the opulence of bygone times.
The Santa Marta Lighthouse, with its characteristic blue and white color, is not only a reference point for sailors, but also a place from where you can get impressive panoramic views of the Atlantic.
For those interested in nature, the Sintra-Cascais Natural Park is a "must to do", offering hiking trails that cross varied landscapes, from dunes to dense forests.
In addition, the Boca do Inferno, a rock formation near the coast, is an impressive sight, especially during high tides when the waves crash against the rocks creating a dramatic effect.
The center of Cascais, with its cobbled streets and charming squares, is full of boutique shops, restaurants and cafes where visitors can sample the local gastronomy, especially fresh seafood.
In addition, the Cascais marina is a lively place where you can see everything from luxurious yachts to traditional fishing boats, and is an ideal starting point for boat trips or water sports.
Event Evolution
The Cascais Swim Challenge has undergone a remarkable evolution since its inception.
It was at 2012 when Jorge Paulo Pereira founded the Swim Challenge Cascais, making it the first open water swimming event organized by a private entity in Portugal.
Jorge, a local swimmer,'s passion for water sports led him to join Miguel Arrobas, former Olympic swimmer; Pedro Brandao, His trainer; and Nuno Felicio, thus forming the team that organized the first event.
Later editions consolidated the Swim Challenge as one of the biggest events in the country growing uninterrupted until 2020, when it had to be canceled due to the pandemic.
Over the years, this competition has seen great names in swimming in Portugal.
In 2021, the event returned to its splendor with the celebration of its 10th edition, offering a beautiful "race field" framed in a setting full of history and unique natural beauty, inspiring great achievements and creating unforgettable memories.
This year, the event has undergone a rebranding with the creation of the Swim Grand Prix (Swim GP), which currently includes the Voyages and which will cover the entire event in the future.
This renovation and expansion reflect the organizers' continued commitment to excellence and passion for open water sport.
The proof
The LIDL Swim Challenge offers various tests, from 200m for children to 5km for the most experienced.
Each test presents its own challenges and technical requirements, ensuring an experience tailored to every skill level.
This is the list of tests, distances and dates:
| | | |
| --- | --- | --- |
| Distance | Description | Date |
| 20 km | Lisbon-Cascais ultra marathon route | 23th September 2023 |
| 10 km | Oeiras-Cascais water marathon | 23th September 2023 |
| 5 km | Open water test (Olympic distance) | 24th September 2023 |
| 3.8 km | open water test | 24th September 2023 |
| 1.9 km | open water test | 24th September 2023 |
| 1 km | open water test | 24th September 2023 |
| 400m | test for children | 24th September 2023 |
| 200m | test for children | 24th September 2023 |
A perfect opportunity for Spanish triathletes
El LIDL Swim Challenge Cascais represents an unbeatable opportunity for Spanish triathletes.
Located in the picturesque bay of Cascais, this event combines the natural beauty of the Portuguese coast with high-level sporting challenges.
In addition, the geographical proximity between Spain and Portugal facilitates participation, allowing triathletes and their families to combine sport and tourism in a unique environment.
Whether you are preparing for an end-of-season event, want to familiarize yourself with the IRONMAN Portugal course, or simply seek an enriching sports experience, Swim Challenge Cascais is the perfect setting for Spanish triathletes.
more information in your webpage https://swim-challenge.com/