Triathlon News
Would you like to compete in Age Groups in the Grand Final of the Triathlon World Series with the national team?
The FETRI activates a program to support the Age Groups in Lausanne 2019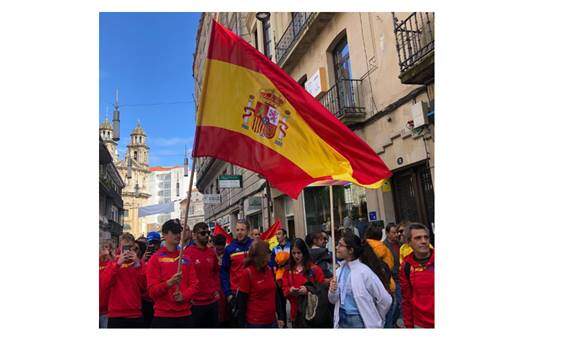 This year the World Series final is held in Laussanne, from Thursday, August 29 to Sunday, September 1.
Triathlon is one of the only sports that allows its popular athletes to compete in the World or European Championships of each specialty on the same circuits that professional athletes do, during the same days and in the same location.
Age groups, the soul of sport and where the foundations of national and international competitions are sustained, compete with the same monkey that Javier Gómez Noya, Mario Mola, Miriam Casillas, Anna Godoy… or any of the members of the Triarmada do.
Support program for Spanish age groups
The Spanish Triathlon Federation has activated a support program for Spanish age groups who want to go to Swiss lands to compete in the Age Group Triathlon World Championship, and power to live in first person the final outcome of the World Series this year, with three Spaniards fighting for the title: Fernando Alarza, Javier Gómez Noya and Mario Mola.
Within the support program created by FETRI, athletes registered in Lausanne will receive a series of services by the Spanish Triathlon Federation, in addition to a welcome pack distributed in Swiss lands by our Austral sponsor.
Do not think twice, enjoy a world championship from within, compete in the national triathlon team and enjoy a unique experience in the queen event of the international calendar.
Age Groups Program Laussanne 2019
Spanish athletes who come to Laussanne to compete in the Age Group World Championship will benefit from the following services:
• Support by dedicated FETRI staff to attend to the needs of Age Groups
• Dedicated space at the Lausanne Expo
• Mechanic service
• Photographer
• Accompaniment by the dedicated staff of the FETRI to the parade of nations
• A meeting with Spanish athletes will be scheduled
• Technical meeting translated into Spanish
• Participation certificate
In addition, and thanks to the support of the Austral technical sponsor, all those registered will receive a welcome pack that will consist of an exclusive T-shirt for age groups and a backpack, which they can pick up at the Expo.
What information should I take into account when registering in Lausanne?
• The World Age Group Triathlon Championship is disputed on sprint (drafting allowed) and Olympic (drafting not allowed) distances
• Registrations can be made at the following link until July 16
http://triatlon.org/triweb/index.php/competicion/2019-campeonato-del-mundo-de-triatlon-lausanne/
• Key dates:
o Thursday August 29, parade of nations and opening ceremony
o Saturday August 31, Sprint Triathlon World Championship
o Sunday September 1, Olympic Triathlon World Championship
• Full schedules can be found here https://lausanne.triathlon.org/event-info/schedule/
• The routes can be found here https://lausanne.triathlon.org/athletes_info/course_maps/