All about The Super League Triathlon, with Noya, Mola and the Brownlee

The Super League Triathlon is something different, a Championship composed of 3 spectacular events in 3 consecutive days, where the winner will get $ 100.000 and between all the prizes, 1.5 million dollars will be distributed in prizes
The best triathletes in the world, including the double Olympic gold medalist Alistair Brownlee (GBR), the double Olympic medalist Jonathan Brownlee (GBR), the five-time ITU Triathlon World Champion Javier Gomez Noya (ESP) and the Triathlon World Champion Mario Mola (ESP) will be among the twenty-five superstars who have signed lucrative Super League Triathlon contracts.
Regarding female participation, it will start from the end of 2017 in the same locations as the men's events
The circuit will be made up of several tests in different formats, each one more spectacular than the previous one that will be held in Hamilton Island, Australia between the 17 and the 19 of March of 2017
Triple Mix
This is a test in which the triathletes will have to do 3 rounds changing the order of the sports with 10 minutes of rest between each of them. The starting position of each athlete will be the one that finished in the previous round, where the winner will be the one with the best total time.
Round 1
Swimming (300m), Cycling (6km), Race (2km)
(10-rest minutes)
Round 2
Race (2km), Cycling (6km), Swimming (300m)
(10-rest minutes)
Round 3
Cycling (6km), Swimming (300m), Race (2km)
Equalizer
This test has two rounds, the first on the bike in time trial format, where the first will try to get the best possible time to get ahead of their competitors.
In the second part, the athletes will be separated by the time lost in the first segment, ie if the second classified in the first round loses 6 seconds, will be in this second with 6 seconds behind the winner.
Step 1 —
Cycling time trial
Step 2 —
Swimming (300m), Race (2km), Swimming (300m), cycling (6km), Race (2km)
Promotional video
Eliminator
The speed will be what makes the difference. This test that consists of 3 swim-bike-race rounds with 10 minutes of rest between each of them. These 10 minutes start when the winner of the series goes into goal, which means that the rest will have less recovery time. After each round the athletes who are leaving the last will be eliminated
Round 1
Swimming (300m), Cycling (6km), Race (2km)
(10-rest minutes)
Top 15 finishers will go to the second round
Round 2
Swimming (300m), Cycling (6km), Race (2km)
(10-rest minutes)
Top 1o finishers will go to the third round
Round 3
Swimming (300m), Cycling (6km), Race (2km)
The first athlete to cross the finish line will be the winner
Enduro
A test consisting of completing 3 followed triathlons, where the winner will be the first to reach the finish line
Sprint Pursuit
It will be formed by two rounds, the first a sprint triathlon in the usual format to compete 20 minutes later in the second round in order of arrival where two consecutive triathlons will be completed
Awards
The super League Triathon offers a large number of prizes that will be awarded to the winners of the 3 events on Hamilton Island, Australia. (AUD)
1st $ 100,000
2nd $ 50,000
3rd $ 25,000
4th $ 10,000
5th $ 8,000
6th $ 6,000
7th $ 4,800
8th $ 3,500
9th $ 3,000
10th $ 2,500
Triathletes List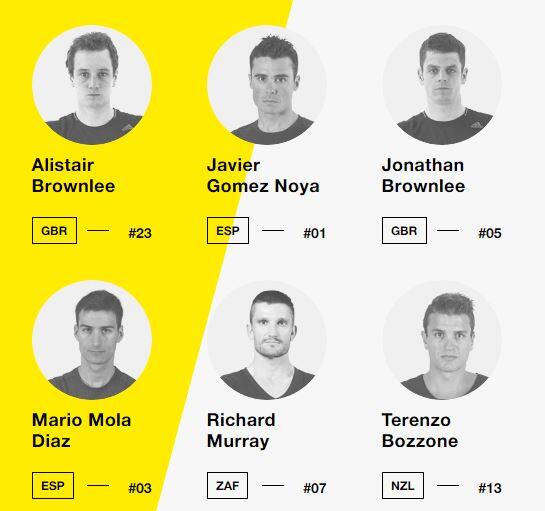 Javier Gómez Noya
| | | | |
| --- | --- | --- | --- |
| Name | Last Name | Country | Dorsal |
| Javier | Gomez Noya | ESP | #01 |
| Kristian | Blummenfelt | NOR | #02 |
| Mario | Mola Diaz | ESP | #03 |
| Henri | Schoeman | RSA | #04 |
| Jonathan | Brownlee | GBR | #05 |
| Crisanto | Grajales Valencia | MEX | #06 |
| Richard | Murray | RSA | #07 |
| Cameron | Dye | USA | #08 |
| Ryan | Fisher | AUS | #10 |
| Igor | Polyanskiy | RUS | #11 |
| Richard | Varga | SVK | #12 |
| Terenzo | Bozzone | NZL | #13 |
| Jorik | van Egdom | NED | #21 |
| Alistair | Brownlee | GBR | #23 |
| Aaron | Royle | AUS | #26 |
| Josh | Amberger | AUS | #27 |
| Ryan | Bailie | AUS | #39 |
| Jake | Birtwhistle | AUS | #44 |
| Sigurdur Orn | Ragnarsson | ISL | #57 |
| Andrea | Salvisberg | SUI | #69 |
| Ben | Shaw | IRL | #73 |
| Dmitry | Polyanskiy | RUS | #77 |
| Brent | McMahon | CAN | #83 |
| Alessandro | Fabian | ITA | #88 |
| Joe | Maloy | USA | #99 |
Further information: https://superleaguetriathlon.com/