TriStar111 Monaco, the 1 Formula of Triathlon, attracts popular, professional and VIP's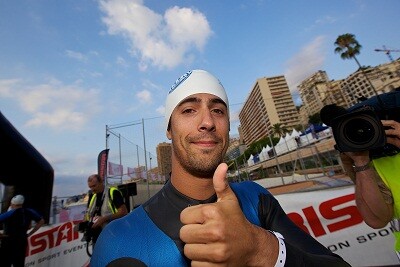 Almost 1.000 registered to enjoy this Sunday the Formula 1 triathlon, with many professionals, celebrities and athletes (pilots, cyclists ...).
The TriStar111 Monaco will take to the streets of the exclusive Principality this coming Sunday with almost 1.000 registered triathletes to enjoy the most anticipated TriStar event of the year. Formula 1 drivers like Lucas Di Grassi, Bruno Senna or Alex Wurz, actors like Paul Belmondo, skiers of the stature of Vanessa Vidal, mythical athletes like Wilson Kipketer or cyclists like Peter Luttenberger, Paco Wrolich, Richie Porte, Cooke, Nick Gate, Berhnard Eisel… will join the triathlon party on the Côte d'Azur this coming Sunday. On the starting line there will also be a good cast of triathlon professionals: Olivier Marceau, Joel Jameson, Lothar Leder, Thomas Hellriegel, Ain-Alar Juhansson, Coralie Lemaire, Adeline Rausis, Nicole Leder or Eimear Mullan, among others.
The TriStar111 Monaco will bring together almost 1.000 triathletes on the streets of Monte Carlo this Sunday in a very fun and tough event in one of the most glamorous and exclusive venues in the world. Following last weekend's TriStar Minnesota, the TriStar world circuit makes a stop before arriving in Split in the Principality of Monaco, where many familiar faces can be seen on the starting line. The route will pass through some of the most emblematic points of the Monaco Formula 1 Grand Prix, and this fun triathlon will also have the confirmed presence of some of the drivers from the 'great circus' grid: Lucas Di Grassi, Bruno Senna or Alex Wurz, as well as pilots from other categories and disciplines (Alberto Valerio, Marco Mapelli, Ralph Firman…). Jenson Button also participated in 2010, and it is possible that others will join the starting list in the last hours.
The mythical curve Rascasse, the hard climb to La Montée d'Ostende, the spectacular Le Tunnel du Fairmont, the start at the Port… are some of the stages where the TriStar111 Monaco takes place (1 km of swimming, 100 km of cycling and 10 km of running) and that will be shared by popular triathletes and VIPs. The actor Paul Belmondo, the French skier Vanessa Vidal, the myth of athletics Wilson Kipketer, one of the best eightcentistas in history, cyclists in active and retired as Peter Luttenberg, Peter Wrolich, Fabrice Gougot, Maja Adamsen, Richie Porte, Baden Cooke, Nick Gate, Berhnard Eisel, Yauheni Hutarovich ... They are some of those who already participated last year and have formalized their registration for this Sunday.
As for the professional triathletes called to fight for victory, there are the Swiss Olivier Marceau (winner here in 2010 and who defeated Chris McCormack and Marcel Zamora in this year's TriStar Mallorca), the British Joel Jameson, Germans Lothar Leder (first triathlete to lose 8 hours in Ironman) and Thomas Hellriegel, Ain-Alar Juhansson, and the women Coralie Lemaire, Adeline Rausis, Nicole Leder or Eimear Mullan.
More information in www.tristar111monaco.com and coverage of the test in www.tristarlive.com