Victor Arroyo and Patricia Bueno win the VIII Nutrisport Half Triathlon of Seville by Zone3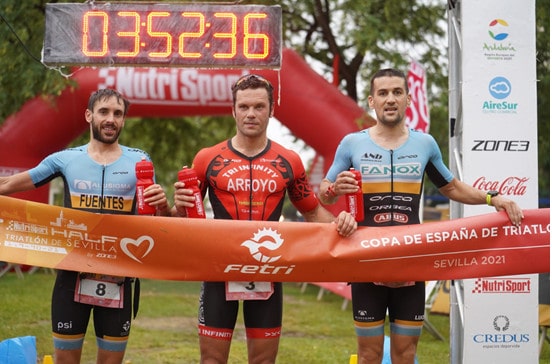 The Andalusian capital has been the luxury host today Saturday of the VIII edition of Nutrisport Half Triathlon of Seville by Zone3, Final test of the Spanish Cup of Medium Distance Triathlon.
The test was held in atypical weather conditions for the city of Seville with the presence of a timid rain and wind along the route, aspects that although they have made the test somewhat harder than usual, have not detracted from the spectacle. event.
In this scenario, the current Spanish Long Distance champion, Victor Arroyo and the Andalusian champion Patricia Bueno The predictions given to both triathletes on the favorites poster have been imposed by making good.
In the men's test Stream has stopped the clock in a spectacular time of 3 hours 49 minutes and 27 seconds and an advantage of only 33 seconds against the second classified, the Basque Gonzalo Fuentes which has marked a spectacular foot race sector to put the Madrilenian in trouble in the last kilometers. In third position was another of the favorites, Mikel Mugica, who completed the podium.
The female test was also close in which Patricia Bueno she had to work to make up for lost time in swimming and made good her great cycling partial to be able to manage her advantage against Zoe Natalia Bello who could not regain the leadership despite a good running race.
Finally, Bueno crossed the finish line in first place, stopping the clock in a final time of 4 hours, 45 minutes and 13 seconds. Zoe Natalia Bello was second while completing the podium in this women's category Sandra Martinez.