Victoria of Alistair Brownlee in Kitzbühel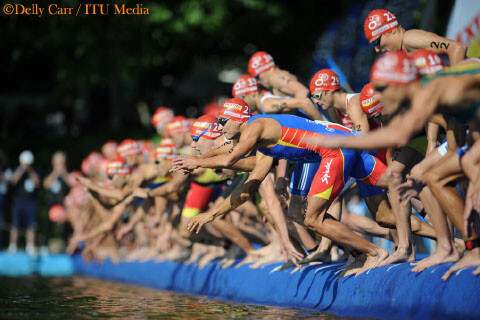 Javier Gómez Noya remains among the leaders of the world series ranking
Alistair Brownlee has claimed victory at the Dextro Energy Triathlon ITU World Championship held in Kitzbühel, Austria.
The presence of Chris McCormack "Macca" Ironman World Champion in 2010., Although he was in the test during swimming, in the cycling sector he was left behind and ended up retiring, he commented that he had run out of fuel, since on June 3 prevailed in the Challenge of Cairns.
Contesting this race, several Olympic triathletes were present: Simon Whitfield (CAN), Reto Hug (SUI), Ivan Raña (ESP), Juraci Moreira (BRA) and Tim Don (GBR).
This test had the presence of the Spaniards Iván Raña, Mario Mola and Ramón Ejeda. The current world champion Javier Gómez Noya decided not to attend this test to prepare for the European triathlon championship to be held in Pontevedra next week.
The race was contested until the last lap of the cycling sector, since in swimming they all left in a group, where the eldest of the Brownlee brothers emerged first from the water followed by his compatriot Stuart Hayes, and the Italian Alessandro Fabian.
The rain made an appearance in the test in the cycling sector, although the route was very curvy and technical, there were not many incidents.
In the first laps a group of 50 triathletes was formed, highlighting the absence of "Macca" who was left behind and was losing one minute per lap, retiring on the fifth lap.
On the penultimate lap Hayes, Brownlee and Brazilian Reinaldo Colucci attacked, gaining a 37-second advantage in the transition to the race.
Once the race segment started, Alistair was imposing its rhythm, achieving 37 seconds ahead of Hayes in the first round. That income was enough to impose with authority in the goal with a time of 01: 51: 54, followed by Russian Alexander Bryukhankov to 44 seconds and in third place getting the Swiss Sven Riederer bronze.
Among the Spaniards stands out the comeback of Mario Mola, who made a magnificent race finishing in eleventh place, a magnificent position since he started the race on foot in position 33. Ivan Raña finished in position 35 and Ramón Ejeda in position 41.
Tomorrow the women's race will be held in the same place, which will start at 12: 356. The ITU broadcasts this competition live, you can see it at this address: http://triathlonlive.tv/
Javier Gómez Noya has moved to third position in the ITU World Series Ranking for not participating in this test, it is as follows: