Triathlon News
Wild Wolf Cidade de Lugo Fluvial recaptures the Copa del Rey triathlon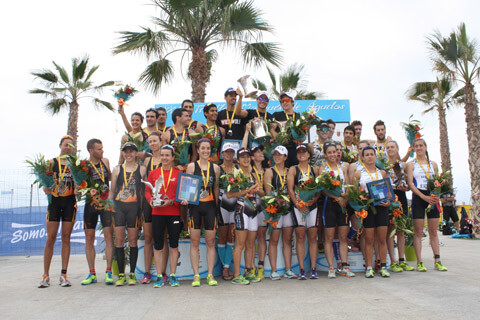 The Galician team took the Triathlon King's Cup Both male and female, recapturing the title that last year snatched the CT Diablillos de Rivas.
At 09: 00 h. the competition began with the Open event, in which a total of 64 teams took part before clouds that threatened rain, but finally the time allowed both athletes and spectators to enjoy an intense morning of Triathlon through the streets of Murcia of Eagles that was shown, as always, overturned at all levels with sport in general and triathlon in particular.
At the top of the women's podium the members of the Ecosport Triathlon Alcobendas B, followed by the Marlins Triathlon Madrid B and the third box was for the B team of the CTOA, which completed a triplet of Madrid teams.
In boys, the AD Sevilla Zambru's Bikes B was the first and his teammates C got the bronze. While the Komando Fisioreig.com managed to be among them in second place.
After the Open test, it was the turn of the elite that completed the 180 participating teams in the 2013 edition of the King's Cup of Triathlon, record of participation in the aforementioned competition, with an increase close to 80% with respect to 2012.
The winners of the 2011 and 2012 editions came to Águilas with very competitive teams, in what was supposed to be a fight between the two to win the Cup. Even so, they did not have it easy due to the great competition of the rest of Equipements; certainly also very strong and motivated.
In girls, Lugo team members crossed the finish line after 01: 03: 24 competition. Almost two minutes later the CT Diablillos de Rivas did the same, completing the podium of the Ferrol Triathlon girls with a time of 01: 05: 45; arriving at 22 seconds of the fourth member of the Madrid team.
Before the attentive look and the spirits of the numerous public congregated in the streets of Águilas, the boys of the Wild Wolf Cidade de Lugo Fluvial, led by the Olympic medalist and recent Spanish Aquathlon Champion, Javier Gómez Noya, they were not less than the girls and they also won with a spectacular 00 time: 55: 25; although in this case the race was more equal since only 10 seconds later the members of CT Diablillos de Rivas entered the finish line. While the triathletes of Arcade Inforhouse Santiago completed the 750 m of swimming, 20 km of cycling and 5 km of running in 00: 56: 05, taking the third metal.
The King's Cup of Triathlon was closed with the awards ceremony, which was attended by the Mayor of Águilas, Mr. Bartolomé Hernández, the General Director of Sports of the Region of Murcia, Mr. Antonio Peñalver and the Presidents of the Spanish and Murcia Triathlon Federations, D. José Hidalgo and D. Diego Calvo, respectively.
FETRI
You may also be interested in this