Triathlon News
Xavier Giró, from the drugs to the Titan Desert
Exhausted by the years of cocaine consumption since adolescence, with 120 kilos of weight and abandonment by the family, at the age of 29 years undertook a path of recovery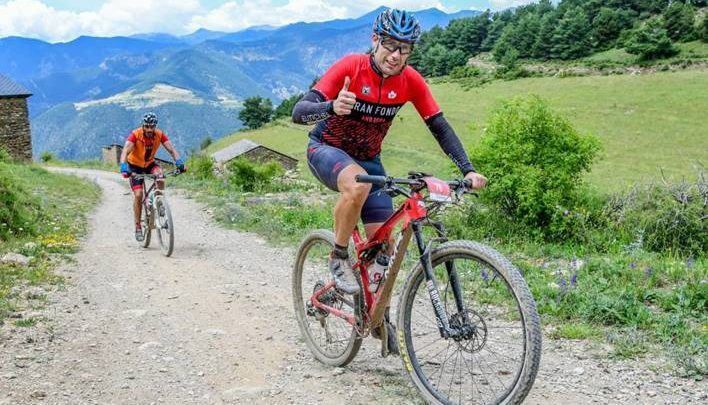 Exhausted by the years of cocaine consumption since adolescence, with 120 kilos of weight and abandonment by the family, at the age of 29 years undertook a path of recovery
Self-destruction and degradation or undertaking a new unknown direction of effort and suffering to reach an uncertain place. The bicycle has given life to Xavier Giró and the Garmin Titan Desert is the culmination of his life change.
La Titan Desert It is a Mountain Bike race in stages where orientation and endurance prevail through the most incredible landscapes of Morocco. The competition consists of 6 stages and over 600 kilometers during 6 days where the participants will face the heat, the desert and the harsh conditions of the race.
It's been more than five years Xavier Giró he is recovering from his drug addiction. For this, an ally has helped and accompanied him in this time, the bicycle. And during this 2019 this process will culminate with its great challenge of personal improvement: the Garmin Titan Desert.
I had hit bottom. About 5 about a year and a half ago the life of this Tarraconense came to a vital crossroads before which I had to make a decision. Follow the path that led the last years of self-destruction and degradation of everything he wanted, especially his family, or embark on a new unknown direction of effort and suffering to reach an uncertain place.
Exhausted by the years of Cocaine use since adolescence and the abandonment on the part of the family, at the age of 29 years undertook a recovery path. He spent three months internal to the Hippocrates Institute of Hostalets de Balenyà, a center for treatment against drug addiction. There he began to walk with his companions, he could not run. The addiction had made him gain weight until more than 120 kilos. He went to live in a sheltered apartment and went out to bike, alone. Later, about 3 years ago, he joined the Cycling Club MTB El Castellar, his village Camp de Tarragona.
"I tried this game for big kids that is the bike and I discovered a world, a passion, a space for me where to put into practice these new skills that taught me to live again and that every day I saw more clearly that they were indispensable to get ahead: perseverance, effort, humility, self-discipline ... All this in the therapy room was theory, on the bike took shape and became my way of life".
Slowly, with the help of therapists and colleagues, with the unconditional support of those who love him and a tool that has accompanied him from the beginning, the bicycle has been able to win the game of drugs. After making routes through Andorra and having participated in the Transcatalunya, he remembers with special emotion the last kilometer of an OpenNatura, in his town: "I was already facing the last meters, and I saw that my family was waiting for me on arrival. At that moment I dropped the tear and thought about the hard times that had happened. But now he was there, with them".
This year, to put an end to this fight, has decided for the greatest of adventures, running Garmin Titan Desert. He has never played a stage test before, but together with two other partners he wants to convey a feeling of self-improvement: "Sport helps you connect and reintroduce yourself back into society. A partner who has already done the Titan Desert three times has entangled me to go, in total we are three. Let's see if this is true that 'the desert changes your life'".
Further information: https://www.titandesert.com/