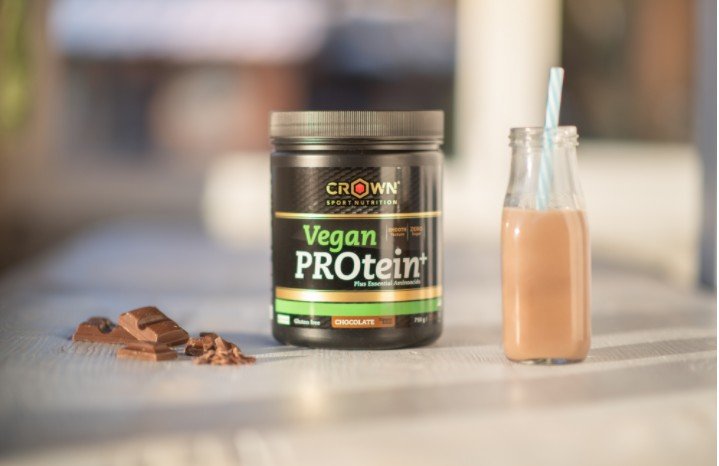 Crown Sport Nutrition Launches New Vegan PROtein + for High Performance with Pea Protein
It is Micronized Pea protein with a plus of Essential Amino Acids
Crown Sport Nutrition launches a new product, the Vegan PROtein + based on pure micronized pea protein.
It is a product unique within the vegetable protein market due to its texture and flavor, since its texture is unique, being very fine and not at all sandy.
In addition, it is enriched with essential amino acids to have an aminogram similar to Whey protein.
Digest quickly
Being a fortified and micronized pea protein, has greater solubility than the rest of vegetable proteins, so it is digested quickly.
Not only is the composition of essential amino acids (AAEs) in charge of modulating protein synthesis, but also the kinetics of digestion (digestibility) is very important.
Some vegetable proteins with a lower AAEs proportion but with higher digestion kinetics activate muscle protein synthesis more than other slower animal proteins, although with higher AAEs proportions (Jagüer, R. et al., JISSN. 2.017) .
Perfect alternative to animal proteins
For all this VEGAN PROtein + is a perfect alternative to animal protein supplementsWhether you are vegan or not and you simply want to have another source of high-quality, allergen-free protein.
Ingredients
(Vanilla): (93%) Micronized pea protein, flavor, L-leucine, L-isoleucine, L-lysine HCl, L-methionine, L-threonine, L-valine, sweetener: sucralose; coloring: carotene.
(Chocolate): (84%) Micronized pea protein, defatted cocoa powder, L-leucine, flavorings, L-isoleucine, L-lysine HCl, L-methionine, L-threonine, L-valine and sweetener: sucralose.
Flavors
The product has two flavors, chocolate and vanilla
Further information: https://crownsportnutrition.com/producto/vegan-protein/