Calendar
Triathlon News
Spain 2019 Half Distance Triathlon Calendar
More than 50 tests make up the national 2019 Media Distance calendar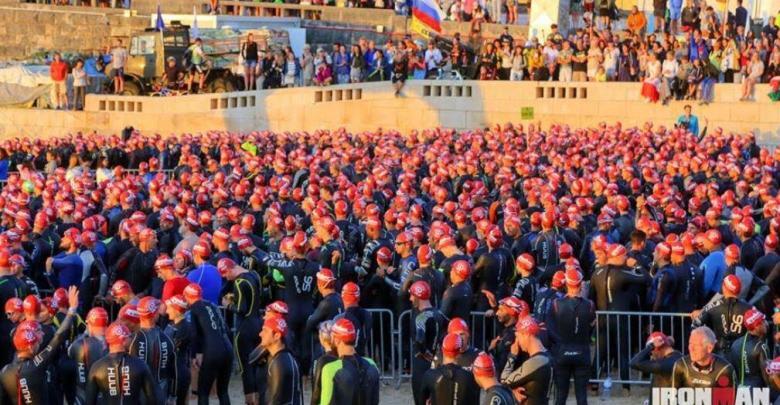 Below we present a complete calendar with all the medium distance tests of Spain and Portugal in 2019
Check the rest of our calendars
In addition to the MD tests where the vast majority are 1.900 m swimming, 90 km cycling and 21 km running, the classic distance B (3000-80-20) corresponding to Zarautz and Terres de l are also included. ´Ebre, the "Palmaces distance" (1800-60-12), from the classic Pálmaces Triathlon and the 111 (1-100-10) distance from the Portocolom Triathlon.
NOTE: The events marked with (*) are not yet the confirmed date, so we have taken as reference the one that has been disputed this 2018 and we have moved it to its corresponding day of 2019. We also invite organizers who have some other evidence confirmed that we warn to add it to the calendar.
Calendar Competitions Average distance Spain 2019
February
Sunday 17th
Ocean Lava Santa Cruz de Tenerife
Place: Santa Cruz de Tenerife
March
Sunday 24th
Dx2 Seville Triathlon
Sunday 31th
XXVII Torre del Mar Triathlon - Costa del Sol
Location: Torre del Mar, Vélez-Málaga
IX Double Olympic Triathlon Terres de l´Ebre
Place: Sant Carles de la Rapita, Tarragona
April
Saturday 6:
Nutrisport Half Triathlon Seville
Domingo 7:
👉 Challenge Salou
Domingo 14:
Oc Portocolom International Triathlon
Place: Portocolom, Mallorca
👉 Tritour Deltebre
Place: Deltebre, Tarragona
Saturday 27:
Gloria Challenge Mogán - Gran Canaria
Place: Mogán, Gran Canaria
Ironman 70.3 Marbella
Mayo
Saturday 4:
VII International Infinitri Half Triathlon Peñíscola
Place: Peñíscola, Castellón
Domingo 5:
Toledo is Triathlon (*)
XV Triatló B Banyoles-Pla de l´Estany
Saturday 11:
Ironman 70.3 Mallorca
Domingo 12:
Half Ironman Aranjuez
Place: Aranjuez, Madrid
Web: Under construction
Oropesa del Mar Triathlon
Saturday 18:
Lisboa Challenge Lisboa
Half Triathlon Pamplona
Domingo 19:
Ironman 70.3 Barcelona
Puerta Caminito del Rey Triathlon. Ardales-El Burgo
Location: Ardales-El Burgo, Málaga
VII 113MD Triatló Oliva
100 × 100 Half Empuriabrava
Place: Empuriabrava, Gerona
Domingo 28:
Aviaman (*)
June
Saturday 1
Guadalajara Triathlon
Sunday 2th
👉 Tritour Amposta
TotalTri Mallorca
Bierzo Triman (*)
365 DXT Triathlon Ciudad de Ronda
Saturday 8
Triathlon of Zarautz
Place: Zarautz, Guipuzcoa
Ibiza Blue Challenge
Sunday 9th
👉 ICAN TRIATHLON Valencia 113
Saturday 15
👉 Ecotrimad
Trialón La Rioja
Sunday 16th
Northwest Triman Media Distance
Monegrosman (*)
Half l´Ametlla de Mar
Place: Amella de Mar, Tarragona
Saturday 22
Bizkaia Triathlon
Sunday 23th
👉 MotorLand Aragon Half Triathlon
Venue: Aragonese circuit of the MotoGP World Championship, MotorLand Aragón
Sunday 30th
Salamanca LD Salamanca Triathlon
Trialton of Madrid
July
Sunday 14th
👉 Triathlon Festival Asturias
Place: Embalse de Trasona, Asturias
👉 La Tour Geneva Triathlon
Place: Geneva, Switzerland
Saturday 20
Half Triathlon Mequinenza
Place: Mequinenza, Zaragoza
Saturday 27
👉 San José del Valle Triathlon
Place: San José del Valle (Cádiz)
Palmaces Triathlon (*)
August
Sunday 11th
Challenge Triathlon Castilla y León (*)
Place: Medina de Rioseco, Valladolid
ICAN TRIATHLON NORDHAUSEN
Saturday 17
👉 Buelna Valley Triathlon
September
Saturday 14
Doñana Challenge (*)
Saturday 21
Posadas Triathlon (*)
Location: Posadas, Córdoba
Sunday 22th
👉 Challenge Madrid
Place: Madrid, Madrid
Website https://www.challenge-family.com/race/challenge-madrid/
Santander Islas Cíes Challenge (*)
Infinitri Almassora (*)
Place: Almassora, Castellón
Artiem Half Menorca (*)
Sunday 29th
Man Ironman 70.3 Cascais
Mar Menor -San Pedro del Pinatar
Place: San Pedro del Pinatar, Murcia
100% Half Costa Brava
Place: Platja d´Aro, Castell d´Aro, Gerona
Sailfish Costa Brava by Sands Beach Active
Place: San Pedro Pescador, Gerona
October
Saturday 5
👉 Club la Santa Ironman 70.3 Lanzarote
Place: Playa Blanca, Lanzarote, Canary Islands.
Bilbao Triathlon
Friday 18th
👉Azores Triton World Series
Place: Azores Islands, Portugal
👉 Guadiana Triathlon
Place: Isla Canela Beach, Huelva
Challenge Peguera - Mallorca
👉 Half Ican Gandía
Sunday 20th
Cabo de Gata Triathlon - Nijar MD
Place: San José (Níjar), Almeria
Saturday 26
Ocean Lava Lanzarote (*)
👉 Mallorca Long Weekend
Sunday 27th
MD Spanish Championship - Triathlon Ibiza