How to use Compex for Triathlon? By Fredercick Van Lierde
The Belgian triathlete gives us first hand some tips to use it correctly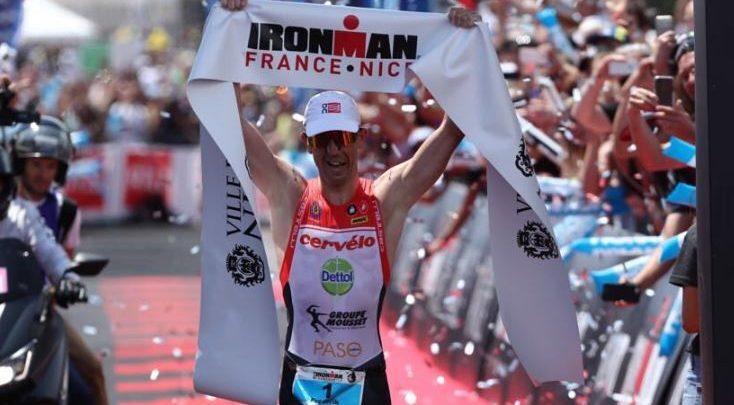 Frederick Van Lierde, Ironman World Champion in 2013, 10 times participant in the Hawaii Ironman and 5 times winner of the Ironman Nice, is since last year athlete COMPEX #compexathlete and for this reason we wanted Ask him about the use of electrostimulation in his training so that he would give us first hand some examples to use it correctly. This year Frederick achieved his fifth victory in the Ironman Nice.
Hello Frederick, could you tell us how you use Compex?
I use it in training recovery, right after the most difficult sessions or between different sessions that I do the same day. In competition, I always use it as a recovery after the race.
Another example of use is to use it when there is pain or slight discomfort from training (for example, neck pain or back pain)
- What programs do you usually use with Compex in your workouts?
The warm-up program is really good to use just before a session. This program prepares the muscles for a good and solid training, avoiding injuries and making the most of it.
I also use it after training, looking for recovery, especially if it has been a difficult and hard session.
Another interesting use is the relaxing massage in the afternoon or evening when I am on the couch.
- In what period of the season do you use Compex more often?
Recovery programs are the most used in the competition period.
Now that I am starting the new season I will use the strength programs more often, in addition to these competition
- It's easy to use?
Yes, it is super easy to use and you cannot do anything wrong. The system guides you at all times, it also has different languages ​​and tells you exactly what to do at all times.
- Is Compex useful if you train for an Ironman?
It is very useful since I need to recover from many training sessions throughout the week. So whenever I can, I stimulate my recovery with Compex.
Depending on the muscles that I use the most, I can place Compex in different areas of my body.
- What programs do you use after doing an Ironman?
The recovery one, mainly in the calves… They always tend to be very loaded and it is a relief when I can put on the Compex after the competition. I also use the relaxing massage when I need it.
- How do you use Compex to get ready to a competition?
In the last days before an Ironman, I only use it for recovery and in order to prepare my legs and body for the big day. So above all I use recovery and massage programs.
- What benefits can Compex offer to an age group?
The same benefits that a professional triathlete can have. It is easy to take it and gain some time in recovery when working or traveling from one place to another.
On the other hand, with COMPEX you can work force and power more efficiently
- Why would you recommend using Compex to a triathlete?
With Compex it is possible to recover faster and better, it also helps us to strengthen and take care of the muscles of the whole body.
Thanks to its low weight it is easy to take it on trips, in addition to how easy it is to use by any athlete
If you want to know more about COMPEX. Visit his website www.compex.info or consult our articles of COMPEX training
Photo: Ironman