What distance do I choose to debut in triathlon?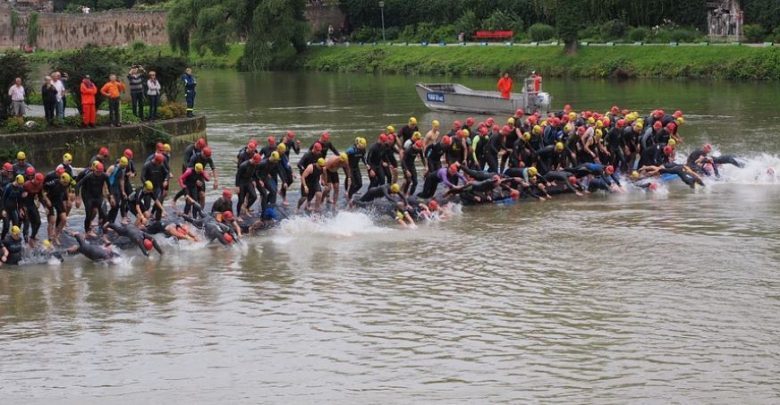 At last you have decided on triathlon but you are assailed by doubts about the distance that you may be able to finish without dying in the attempt.
We give you some tips so that you choose the distance of your first triathlon, considering distance as options supersprint, sprint y Olympic.
You can check all the triathlon distances
Supersprint distance
According to the regulations of the Spanish Triathlon Federation, these tests can cost the following distances for each of the segments: 250-500 swimming meters, from 6,5 to 13Km for cycling and from 1,7 to 3,5 Km for running.
Without a doubt, if you only have a few months practicing triathlon, or if any of the three sports that compose it is still a weak point that gives you insecurity, This is your distance to debut.
Furthermore, at this distance the use of mountain biking, so it is a plus point if you do not have a road bike yet.
Sprint distance
The sprint distance consists of 750 meters of swimming, 20 km of cycling and 5 km of running.
To debut in this distance with pleasure and enjoyment, we advise you that you have already accumulated between 6 and 8 months of training of the three disciplines and be cto complete the union of two of the three segments separately (swim-bike, bike-race).
Check the regulations of the test you want to take, since in many cases a maximum time is established for the swimming and / or cycling segment. T
Take into account the time it may take you to finish the triathlon by making a rough estimate of the rhythms of each sector (if it is the first, it may be around an hour and a half). Prepare yourself physically and mentally for this effort.
Olympic distance
The Olympic triathlon consists of 1,5Km of swimming, 40Km of cycling and 10 Km of running, this can be translated into two hours and half, so you must have a good aerobic endurance base worked and adjust your nutrition and hydration for the effort (this is also trained).
To face the Olympic distance, our recommendation is that you have accumulated experience in at least 2 or 3 sprint distance triathlons.
In addition, it is important that you have done several races of 10Km, but also after riding a bike at a high intensity, since your legs accumulate fatigue and the sensations are very different.
Just like in sprint distance, you can find cut times for the different segments or for the total of the test, so you must be consistent with your level and physical form to do it.
It is always better to enjoy a shorter test and want to continue progressing, than to be disappointed in the first experience for not being a realistic challenge.
Sure you know many "daring" people to start with longer distances, but from our professionalism and knowledge we advise consistency, you will always have time for major challenges with training and experience, so enjoy the "little steps"!
Laura García Cervantes