100 days for the IRONMAN Portugal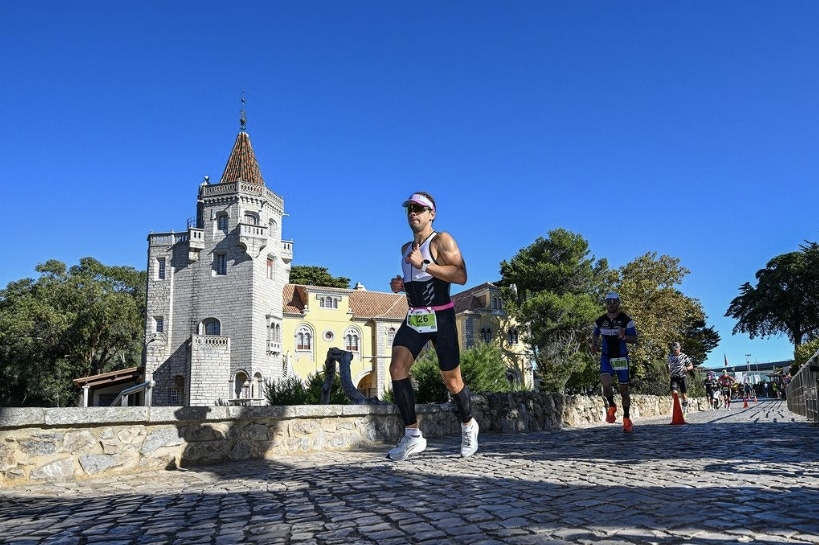 On October 21, 2023, the beautiful city of Cascais, Portugal, will be the setting for a new edition of the IRONMAN Portugal.
This event, which includes the Full distance and 70.3, is one of the most anticipated on the European triathlon calendar, and it is a perfect opportunity to end the season in one of the most beautiful and historical places in Portugal.
The competition scene
Cascais, known as the pearl of the Atlantic, is a coastal city full of charm and beauty.
With its mild climate and its 3.000 hours of sunshine a year, It is an ideal destination for athletes and their families.
In addition to being a perfect place for triathlon, Cascais offers a wealth of historical monuments, palaces, and fortresses for visitors to explore.
More information about Cascais.
Tests
The IRONMAN Portugal is a competition of two tests: the Full IRONMAN and the 70.3. Both will be held on the same day. 21 October.
The Full IRONMAN, which will have the presence of professional triathletes and will be the 3rd edition, while the 70.3 will celebrate its sixth edition.
The tour
The swimming segment will take place in the beautiful Cascais Bay, with a single loop that begins at Praia da Ribeira and ends in front of the Fortaleza at the Clube Naval.
The 180 km cycling segment offers stunning views of the Portuguese Riviera, the Guincho beach and the wonderful natural park of Sintra - Cascais, In addition to going through Estoril F1 Circuit and for the Lisbon city.
As for the foot race, it will begin in Cascais and will cover the guincho road along the coast to Cabo Raso to return to the finish line located in the center of the city.
Open enrollment
The registration process for IRONMAN Portugal is open and can be done through the official page.
Slots for the 2024 World Cup.
In addition, this event offers a large number of Slots for age groups to the VinFast IRONMAN 2024 World Championship, which adds an additional incentive for the participants.
We invite you to register and be part of this exciting competition.
Don't miss the opportunity to close the triathlon season in one of the most beautiful places in Portugal!