2 Spanish officials will be at the Paris Games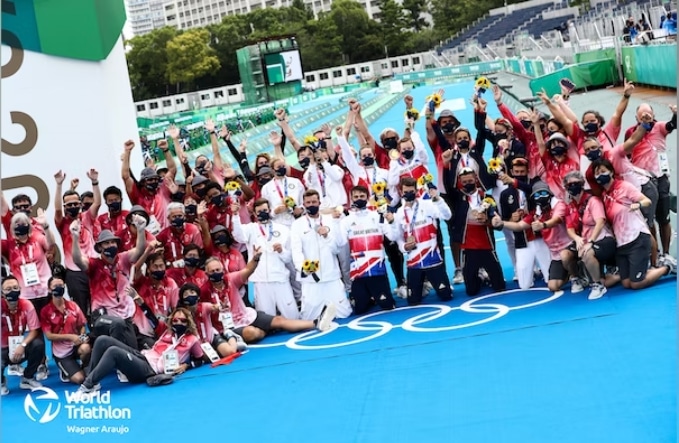 World Triathlon has just announced the list of officers who will be in the games and paralympics of Paris 2024.
43 National Federations will be represented, and for the first time in history where the 50% of the Officials are women.
All five continents are represented in this selection, with representatives from 13 countries performing for the first time at this level.
The team is made up of a combination of Technical Officials with experience in previous Olympic and Paralympic Games, and others who are new to the task at this level of competition, which demonstrates the growth in the training of competent officials in these years.
28 Technical Officials have been selected to officiate at the Olympic Games and 27 have been selected for the Paralympics, also from the five continents.
Spain will have 2 officials and a substitute
Olympics: Miguel Alejandro Fernande
paralympic gamess: Carmen Gomez
Alternate: Monica Flores
This is the complete list
International Technical Officials Olympic Games Paris 2024
| | |
| --- | --- |
| Name | Country |
| Maria Eugenia Micaela Arauz | ARG |
| lyndell murray | AUS |
| fritz schwarz | TUE |
| Ricardo Neves | BRA |
| Janice Turner | CAN |
| Keith Iwasaki | CAN |
| Zhiyang Rouan | CHN |
| Rolando Herrera Agon | CUB |
| Petr Muzícek | CZE |
| Miguel Alejandro Fernandez | ESP |
| Maisie Bancewicz | GBR |
| uli zierl | GER |
| Aggeliki Thomas | GRE |
| Györgyi Bodnár | HUN |
| Hideo Watanabe | JPN |
| tomoko ode | JPN |
| Alexey Kalinin | KGZ |
| Abdenour Rahmuni | TUE |
| Adele Cheah | MAS |
| Cynthia Quilo | MEX |
| Ivan Mihajlovsky | MKD |
| tony sangster | NZL |
| Marie Josephine Zafra | PHI |
| Paula May | POR |
| eva blomqvist | SWE |
| Onur Sentürk | TUR |
| Paul Brandt | USA |
| Catherine Jennings | ZIM |
International Technical Officials Paralympic Games Paris 2024
Name
Country
Michael Thompson
AUS
Patrick Hendrickx
BEL
Patricia Adams Petty
BER
Yan Therrien
CAN
Nicole Tixi
WHO WE
Cristina Jimenez
ECU
Carmen Gómez
ESP
Kati Raudsepp
EST
Jaakko Mattila
END
Duncan Hough
GBR
Maryia Charkouskaya-Tarasevich
GEO
Jan Philipp Krawczyk
GER
Rebecca Mock
HKG
Zoltan Magyarosi
HUN
Sajad Bagherian
IRI
Yuval Root
ISR
koji koganezawa
JPN
Kyung Sook (Kitty) Kim
KOR
Jose Israel Vera Herrera
MEX
Joanna Pyrzynska-Figurska
POL
Adina dusa
ROU
Beryl Campbell
RSA
Steven Teck Cheong Wong
SGP
Winston Crooke
SKN
stevee espling
USA
Olga Blokhina
UZB
david ellis
ZIM
SUBSTITUTE

Kelly de los Angeles Barrientos

GUA
Byambaa Tsagaanbaatar
MGLMore
Peter Thygesen
THE
Catherine Davey
NZL
Monica Flowers
ESP
Houssem Felhi
TUN